March in Music History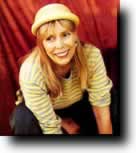 This month the1974 Grammys went to Gladys Knight and the Pips for "Midnight Train to Georgia," and "Neither One of Us" while Neil Diamond won for "Jonathan Livingston Seagull". In 1967's Grammys honored the Mamas and the Papas for "Monday Monday" (also penned by Neil Diamond).
Rapper C-BO went to jail without bail this month in 1998 on charges that his incendiary lyrics violated the terms of his parole by encouraging violence toward police officers, setting a new precedent in the debate over offensive lyrics. In1995 R.E.M. drummer Bill Berry had successful brain surgery after collapsing from an aneurysm at a concert in Switzerland.. Madame Tussaudís Waxworks unveiled a likeness of Elton John this month in 1976 and one of Michael Jackson in 1985. In 1978 Van Halen first hit the road, opening in Chicago...their contract specified that M&Ms with the brown candies removed be provided to the band. Roberta Flack won a Grammy for "First Time Ever I Saw Your Face" in 1973. In1965 "My Girl" by Smokey Robinson took the Temptations to the top of the charts. The following year John Lennon nearly got burned at the stake for his remark that the Beatles "are probably bigger than Jesus right now".
In1994 Grace Slick went down for pointing a shotgun at police at her Tiburon home...later she said she'd been stressed out since her home at Mill Valley burned the year before and was looted of memorabilia by firefighters. "Have You Never Been Mellow," hit the top of the charts for Olivia Newton John this month in 1975. In 1963 country fans started mourning and never stopped after Patsy Cline's plane went down...Cline's hit "Crazy," written by Willie Nelson, only made it to number 9 in 1961, but received a Grammy Hall of Fame Award in 1992.
In 1972 John Lennon had his visa extension for the U.S. revoked only five days after it was issued. In1973 Paul McCartney got arrested for growing pot on his farm in Scotland...he was fined 100 pounds. In1968 Syd Barrett left Pink Floyd just a few months after David Gilmour joined. In1966 Buffalo Springfield formed in L.A....their name came from a steam roller working on the road outside their communal apartment.
In1967 The Jeff Beck group played their first live gig in London. In1983 a Hell's Angel appeared before a Senate Judiciary panel and claimed that California Angels had had a contract out on Mick Jagger since Altamont in1969...during the intervening fourteen years, the Angels had reportedly failed at two assassination attempts. In 1971 the Stones announced they were becoming tax exiles and moving to the south of France. In 1983 Karen Carpenter, after finishing production of a solo album with which she was very happy--succumbed to anorexia at 32 drawing national attention to that ruthless disorder.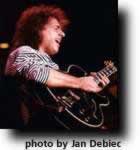 This month in1969, Paul McCartney married Linda Eastman, but while the ceremony is taking place, police are raiding the home of fellow Beatle George Harrison, arresting Harrison and his wife Patti for the 120 rolled up spliffs they had in their keeping, perhaps party supplies for the reception. In 1997, the same Paul McCartney is knighted by Queen Elizabeth, causing one to wonder if he would have become the first rocker to become a "Sir" had he been hanging with Harrison instead of getting hitched. In1958, the instrumental "Tequila," by The Champs hits the top of the Billboard chart, after which Glen Campbell, Jim Seals, and Dash Crofts join the group, transforming its style from funky R&B to soft rock. In1969, Aretha's "Chain of Fools" earns her a Grammy for Best Female R&B performance.
during this month in1972, The Sex Pistols sign a contract with A&M records. In1974, another Beatle indulges in bad behavior when John Lennon, out on the town with buddy Nilsson, is ejected from the Troubador Club in L.A. for heckling Tom Smothers' comedy act.
In1975, Elvis Presley begins his final recording session at RCA's Hollywood studios. In1987, Carol King is inducted into the Songwriter's Hall of Fame. In1991, Janet Jackson switches from A&M to Virgin records and bags a cool 40 million in the deal. In1995, Diana Ross receives the Heritage Award for Career Achievement at the Soul Train Awards, while Barry White is honored with the Song of the Year award for "The Icon is Love".
This month in1997, rapper Notorious B.I.G. is gunned down in a drive-by shooting outside a party thrown by two prominent music magazines and the police are left clueless. In1999, a private funeral is held for Dusty Springfield who died earlier in the month of breast cancer.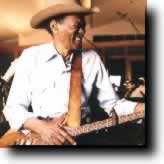 This month in 1999 blues guitarist/fiddler Clarence "Gatemouth" Brown and pianist Roosevelt Sykes were inducted into The Blues Foundation Hall of Fame. Also in 99, Lillian McMurray co-founder of Trumpet Records died, ...her studio, in the back of the Jackson, Mississippi, furniture store she operated, was the site of recordings by blues luminaries such as Sonny Boy Williamson, Elmore James, Big Joe Williams, and Little Milton Campbell.

In 1991 Conor Clapton, Eric's 4-year old son died after falling out the window of a 53rd floor apartment in New York. Also in '91, seven members of Reba McEntire's band together with her road manager were killed when their plane crashed near the California-Mexico border...the singer had taken a different plane. In 1990, singer Gloria Estefan fractured a vertebra when a truck slammed into her tour bus...1982 - Ozzie Osbourne's guitarist Randy Rhoads was killed when he buzzed the Osbourne tour bus in a "borrowed" plane, clipped a wing, and crashed ...and also in 1982, Singer Teddy Pendergrass was seriously injured when his Rolls crashed in Philadelphia.

In 1972, Neil Young's "Heart of Gold" went to the top of the pop charts - the only time the Canadian singer-songwriter was to penetrate the Top 30. In 1971, Aretha Franklin took the Best Female R&B Performance Grammy for "Don't Play that Song"...B.B. King's "The Thrill is Gone" took the male version of that award. In 1976 Bob Dylan's "Hurricane" prompted the retrial of boxer Rubin "Hurricane" Carter. In 1974 The Jefferson Airplane was rechristened the Jefferson Starship and went on to record a string of pop hits in contrast to their earlier politicized, psychoactive substance-fueled output. In1971, Simon and Garfunkle's "Bridge Over Troubled Water" LP and single snagged six Grammys...also in 1971, Janis Joplin's "Me and Bobby McGee" posthumously reached the top of the charts.

In 1970, soul singer Tammi Terrell collapsed in the arms of Marvin Gaye during a concert and died hours later due to a brain tumor...the first Motown tour of the UK including Stevie Wonder, Martha & The Vandellas, The Supremes, and the Temptations hit the British Isles this month in 1965, a bit of cultural payback for Beatlemania currently raging on these shores. Also in '65 The Rolling Stones were busted for public urination...Keith Richards later confided that if it hadn't been for Bill (Wyman) they would have never been caught..." In 1961 - Elvis' "Surrender" hit #1 on the charts...the song was based on an Italian tune "Torna a Sorrento (Come Back to Sorrento)".

This month in 1956, rockabilly Carl Perkins was involved in a Memphis car wreck that killed his brother. In 1952, The Cleveland Arena played host to the Moondog Coronation Ball marking the first rock 'n roll stage show ever.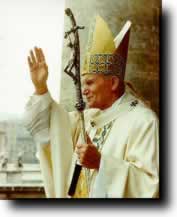 During this month in1999, Pope John Paul II hit pop stardom with 50,000 sales the first DAY his "Abba
Pater" CD was released...it featured 11 tracks in which the pontiff chanted and prayed in Latin with a heavenly musical accompaniment.

The first rap song to reach number one was Blondie's "Rapture" in 1981. Lou Reed was bitten on the backside by some psycho in Buffalo who attacked him onstage during a concert in 1973. In 1980, an unrelated psycho held up the New York offices of Elektra/Asylum Records with a gun, demanding to see Jackson Browne and the Eagles. He surrendered after it was explained to him that both acts lived in California.
In 1970, Peter Yarrow of Peter, Paul, and Mary admitted to "taking immoral liberties" with a fourteen-year-old girl. In 1958, Elvis was sworn into the U.S. Army in Memphis after being drafted. In 1980, Pink Floyd hit number one with "Another Brick in the Wall"...the same month "Dark Side of the Moon" marked its 303rd month on the Billboard charts, beating out Carole King's "Tapestry" by one month.

In 1973, Roberta Flack mesmerized fans with her number one hit "Killing me Softly with His Song"....the song won Grammys for Best Female Pop vocal and Record of the Year and it earned writers Norman Gimbel and Charles Fox an award for Song of the Year. This month in 1999, it got out that rapper Master P had recently donated half a million dollars to keep his old grammer school, St. Monica Elementary, from closing. In 1979, the BeeGees continued to rule the airwaves with "Tragedy," their fifth number one single in a row. In 1964, John Lennon received Foyle's literary prize for his first book, "In His Own Write" published that day, ...his acceptance speech was, "Thank you very much, youv'e got a lucky face."...five years later John and Yoko snuggled down for the first day of their "Bed-in" at the Amsterdam Hilton.

In 1991, one of the New Kids on the Block, Donnie Wahlberg, got charged with first-degree arson relating to a fire at the historic Seelbach Hotel in Louisville, KY...he sang on stage later that night after posting five grand in bail money. In 1979, Eric Clapton married Patti Harrison (nee Boyd). In 1985, Billy Joel married hot model Christy Brinkley, a union that lasted nine years. Lyle Lovett and Julia Roberts untied the knot in 1995, after 21 months of marital...existence...1968, "The Dock of the Bay" hit the top of the charts...alas Otis Redding was not around to enjoy the success, having been killed in a plane crash three months earlier...1973, Dr. Hook and the Medicine show copped the ultimate buzz by seeing their smiliní faces on the cover of the Rolling Stone...their musical celebration of the event reached number six on the charts.

BIRTHDAYS

March 2: Lou Reed (1942)
Eddie Money (1949)
Jon Bon Jovi (1962)
March 3: Little Junior Parker (1927)
March 4: Miriam Makeba (1932)
Bobby Womack (1944)
Billy Gibbons (1948)
Chris Squire (1948)
Emilio Estefan of Miami Sound Machine (1950)
March 5: J.B. Lenoir (1929)
Alan Clark of Dire Straits (1952)
Andy Gibb (1958)
March 6: Mary Wilson of the Supremes (1944)
Kiki Dee (1947)
DavidGilmour (1947)
March 7: King Curtis (1934)
Peter Wolf of the J. Geils Band (1946)
March 8: Mickey Dolenz of the Monkees (1945)
Randy Meisner of the Eagles (1947)
Mel Galley of Whitesnake (1948)
Gary Numan (1958)
March 9: Lloyd Price (1933)
John Cale (1942)
Mark Lindsay (Paul Revere and The Raiders) (1942)
Robin Trower (1945)
Jeffrey Osborne (1948)
Jimmie Fadden of the Nitty Gritty Dirt Band (1948)

March 10: Leon "Bix" Beiderbecke (1903)
TexMex giant Huey Meaux (1929)
Dean Torrence of Jan & Dean (1940)
Tom Scholtz of Boston (1947)
March 11: Mark Hugg of Manfred Mann (1940)
Mark Stein of Vanilla Fudge (1947)
March 12: Mike Stoller (1933)
Paul Kantner of Jefferson Airplane (1942)
James Taylor (1948)
Bill Payne of Little Feat (1949)
Steve Harris of Iron Maiden (1957)
Marlon Jackson of Jackson 5 (1957)
March 13: Neil Sedaka (1939)
Adam Clayton of U2 (1960)
March 14: Quincy Jones (1933)
Walter Parazaider of the band Chicago (1945)
March 15: Lightnin' Hopkins (1912)
Phil Philips who sang '59 hit "Sea of Love" (1931)
Phil Lesh (1940)
Mike Love of the Beach Boys (1941)
Sly Stone (1944)
Howard Scott of War (1946)
Ry Cooder (1947)
Hernandez Lugo of ? & The Mysterians (1947)
Dee Snider of Twisted Sister (1955)
Terence Trent D'Arby (1962)
March 16: Heart's Nancy Wilson (1954)
Jerry Jeff Walker born Paul Crosby (1942)
March 17: John Sebastian of The Lovin' Spoonful (1944)
Clarence Collins of Little Anthony And The Imperials (1939)
War's Harold Brown (1946)
Ian Gomm of Brinsley Schwarz (1947)
Thin Lizzy's Scott Gorham (1951)
Billy Corgan of Smashing Pumpkins (1967)
March 18: Irene Cara (1959)
John Hartman (1950)
B.J. Wilson of Procol Harum (1947)
Wilson Pickett (1941)
March 19: Moms Mabley (1894)
Clarence"Frogman" Henry (1937)
Paul Atkinson of The Zombies (1946)
Ricky Wilson of The B-52s (1953)
The Specials' Terry Hall (1959)
March 20: Jerry Reid (1937)
Carl Palmer of E.L.P. (1951)
Jimmy Vaughan of The Fabulous Thunderbirds (1951)
Slim Jim Phantom of The Stray Cats (1960)
March 21: Lightning Hopkins (1912)
Rosemary Stone of Sly & The Family Stone (1945)
Mungo Jerry AKA Ray Dorset (1946)
Supertramp's Roger Hodgson (1950)
March 22: The Yardbirds' Keith Relf (1943)
George Benson (1943)
March 23: Ric Ocasek of The Cars (1949)
Chaka Khan born Yvette MarieStevens (1953)
March 24: Lee Oskar of War (1946)
Mike Kellie of Spooky Tooth (1947)
Dougie Thompson of Supertramp (1951)
March 25: Hoyt Axton (1932)
Elton John born Reginald Kenneth Dwight (1947)
Aretha Franklin (1942)
Nick Lowe (1949)
March 26: Al Jolson born Asa Yoelson (1886)
Diana Ross (1944)
Steve Tyler of Aerosmith (1948)
Fran Sheehan of Boston (1949)
Teddy Pendergrass (1950)
March 27: Tony Banks of Genesis (1950)
Mariah Carey (1970)
March 28: Johnny Burnette (1934)
John Evan of Jethro Tull (1948)
March 29: Bobby Kimball (1947)
March 30th: John Lee "Sonny Boy" Williamson (1914)
Willie Nelson (1933)
Graeme Edge of the Moody Blues (1942)
Eric Clapton, guitarist and six time Grammy winner (1945)
Jim Dandy Mangrum of Black Oak Arkansas (1948)
rapper M.C. Hammer (1963)
Celine Dion (1968)
March 31st: Lightning Hopkins (1912)
Herb Alpert (1937)
Al Nichol of the Turtles (1946)
Dave Ball of Procol Harum (1950)
Angus Young (1959)



OBITUARIES:

March 2: Dusty Springfield (1999)
March 4: Minnie Pearl (1996)
Richard Manuel of The Band (1986)
KarenCarpenter (1983)
March 5: Patsy Cline (1963)
March 8: Billy Eckstein (1993)
Ron "Pigpen" McKernan of the Grateful Dead (1973)
March 9th: Notorious B.I.G. (1997)
March 10th: Andy Gibb of the Bee Gees (1988)
Doc Green of the Drifters (1989)
Lavern Baker (1997)
March 11: Stacey Guess of the Squirrel Nut Zippers (1998)
March 12: Violinist and conductor Yehudi Menuhin (1999)
March 13: Charlie "Bird" Parker at age 33 (1955)
March 14: Soul singer Linda Jones (1972)
March 15: Violinist Olga Rudge (1996)
March 16: Tammi Terrell (1970)
Aaron "T-Bone" Walker (1975)
March 19: Paul Kossoff (1976)
Randy Rhoads (1982)
Jeff Ward of Low Pop Suicide - of a suspected suicide (1993)
March 21: Muddy Waters' pianist Otis Spann (1970)
March 24: Kenny Moore (1997
March 25: Harold Melvin (1997)
Duster Bennett (1976)
March 26: Rapper Eazy-E (1995)
Noel Coward (1973)
Little Willie John (1968)
March 27: Clifford Jordan (1993)
Arthur "Big Boy" Crudup (1974)
March 29: Joe Williams (1999)
March 31st: O'Kelly Isley of the Isley Brothers (1986)
Tejano singing star Selena (1995)