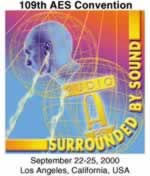 This year was a big one for the Audio Engineering Society. Thousands of industry professionals flooded the Los Angeles Convention Center for a weekend of high tech exploration. What lies ahead?
I just attended the 109th AES (Audio Engineering Society) Convention in Los Angeles (9/00) and the theme or "buzz" this year seems to be centered around two quickly emerging technologies, surround sound, and codecs for audio on the Internet. A Codec converts data between uncompressed and compressed formats, reducing the bandwidth a clip consumes.
A representative from German based Fraunhofer Institute turned heads with a presentation of MPEG-4 audio software for PCs and DSPs. The technology incorporates a Codec, that is light years beyond what MP3 and current popular streaming media protocols such as Liquid Audio (Microsoft) and Real Audio are capable of producing. It uses something new, called "scalable coding, which can deliver three separate bit-rates of audio in real time. This is something, Internet audio has needed for quite a while, since the person encoding the audio, doesn't know the speed of the processor and modem of the person on the other end, downloading the file. This compensates for all popular bandwidth rates. The technicians from Real Audio unveiled a similar technology, called "Sure-Streaming", where you can encode a single clip, that can be utilized on up to six bandwidths. Mark Yonge of Solid State Logic wowed the crowds with a demonstration of SC-06-01, the proposed standard for network and file transfer of audio. This will revolutionize the way samplers, and workstations transfer audio.
With the proliferation of multichannel home listening environments and the impending flood of commercial DVD-Audio recordings, the theme of this convention was "Surrounded by Sound." Legendary jazz keyboardist/composer Herbie Hancock presented the opening keynote address to a anxious crowd. The address was followed by a performance by the Airmen of Note, the premier jazz ensemble of the United States Air Force. The Airmenof Note celeberates it's 50th anniversary of carrying on the tradition of Glenn Miller's Army Air Corps dance band and is one of today's few touring big bands.
Featured workshops included "Audio Watermarking for Packaged and Network Media," "Digital Libraries, Preservation and Metadata," "Mastering for the Internet" and "Perceptual Audio Coders--What to Listen For," among others. According to Van Webster, workshops co-chair, the "workshops identify emerging trends and present the latest information on the full spectrum of audio technologies."
Keyboard Magazine alumni, Robert L. Doerschuk, moderated an excellent workshop on Friday, the fist day of the show, called Beyond the Board: Mysteries of the Artist-Producer Relationship. As musicians and engineers alike, are well aware of, there is more to recording than gear or, even, talent. The final ingredient involves building trust and a creative rhythm between the artist and the producer. The workshop explored this topic with 'Blasters' co-founder, solo artist, and producer Dave Alvin, along with one of the many associates who have worked with him on landmark projects.
Producers flocked to the "Behind the Glass: Platinum Producers," workshop, moderated by Howard Massey, (EQ Magazine and Surround Professional Magazine) which featured an elite panel including Jack Douglas, Geoff Emerick, Eddie Kramer, George Massenburg and Alan Parsons discussing their work.
On Saturday, renowned producer/engineer, Al Schmitt was honored. Al has worked with music icons including Duke Ellington, Ray Charles, Sam Cooke, Frank Sinatra and Steely Dan.
In addition to an Education Fair and Jobs Forum for young engineers, this year's show featured mixing competitions in two categories, Classical and Jazz/Pop, with awards being presented at the closing of the Student Delegate Assembly meeting. Alan C. Kay, a Disney Fellow and Vice President of Research and Development for the Walt Disney Company, discussed the computer revolution and the application of the Internet to musicians.
A late addition to the program, was a Multichannel Audio Production for DTV Workshop, chaired by 109th Convention Secretary, Rich Sanders, on Monday, September 25.
n 1996, the FCC adopted the major elements of the ATSC Digital Television (DTV) Standards and mandated its use for digital terrestrial television broadcasts in the U.S. All commercial stations must begin offering DTV service by May 2002, and all noncommercial educational stations must start by May 2003. A panel of program producers and mixers that includes Larry Benjamin of Laser-Pacific Sound, Ed Campbell of National Sound and Randall Hoffner of ABC, Inc., will address DTV1s creative challenges, trends and broadcast delivery formats. The workshop will also featured playbacks of current DTV programming created with multichannel audio, and a discussion of the opportunities that exist for bringing multichannel sound to television viewers.
Hundreds of new Products were debuted at the convention as usual everyone left, with a lot more than than arrived with; in many ways. The workshops this year were some of the best ever. What's that Heuy Lewis tune? ...the future's so bright, I'm gonna need shades.
One thing that the AES show, and over twenty thousand people who attended, reminded me of; … was that in the scramble to keep up to date with technology, talent wins out every time, and that's one thing that never changes.
---





This site is copyrighted ®© AMP/Alternate Music Press, 1997-2017. All Rights Reserved.
Unauthorized duplication and distribution of copyrighted material violates Federal Law.