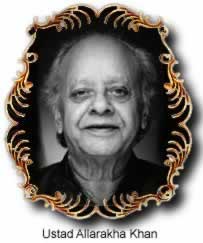 ALLARAKHA: A Tribute from Family and Friends
by Ben Kettlewell

On Sunday September 10, at UCLA's Royce Hall, I was blessed to attend one of the best concerts I've heard in years, a tribute to master musician, Allarakha, who passed away in February, 2000. Once in a great while, a musician emerges who through his genius injects that certain spark necessary to elevate an instrument to another level of expression and appreciation. For tabla, Ustad Allarakha is such an artist.
Before I describe this great concert: the master being honored by this event and the musicians who performed in his honor, I would first like to introduce the concert presenter, The Music Circle. (see bottom page for contact information)
The Music Circle is dedicated to supporting the classical arts of India and their performers. Founded by Ravi Shankar and Harihar Rao, The Music Circle is a California non-profit organisation; the oldest and most prestigious foundation of its kind with similar organizations patterning themselves on its model. Since its founding in 1973, The Music Circle has presented the masters of this century's Indian music on its stage. In its 27-year history they have also provided a beginning platform for developing artists who have now achieved international acclaim.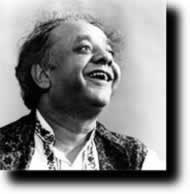 In the spirit of India's long tradition of nurturing music, The Music Circle has become an important forum for the continuing support of Indian music. Hundreds of years ago, in the days of princely India, classical music, dance and theatre were reserved for and nurtured by the courts and upper levels of society. With the decline of princely states and the lifestyle they represented, the audience changed. Small groups of music lovers gathered to jointly sponsor performers who were the heirs to the great traditions. These groups, called kacheri in the south and mehfil, and jalsa (or Music Circle) in the north, nurtured the next generation of artists.
Masters such as Ravi Shankar, Allarakha and his son, Zakir Hussain have given generously of their musical gifts to keep The Music Circle viable. The Music Circle has also presented concerts with other masters such as Lakshmi Shankar, Shivkumar Sharma, Hariprasad Chaurasia, and Ali Akbar Khan.
Today, The Music Circle presents several intimate concerts and one or two large festivals annually. In the past few years The Music Circle has developed some innovative programming including the Ramayana Dance Festival, highlighting the ancient Indian epic through the dance of not only India, but those of Bali, Java, Thailand and Cambodia as well.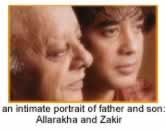 Although presenting music concerts is the Circle's primary consideration, their outreach programs to schools help to inform young minds, stimulating interest and appreciation of other cultures. The Music Circle's member teachers have also developed materials that are provided free of charge for educational programs and special projects.
Artistic Director, Harihar Rao explains, "Membership to The Music Circle is not limited by nationality, place or age. The Music Circle believes that this great music can be appreciated by people from every culture. We hope that we may continue to find wider audiences and generate fresh interest in this ancient and beautiful culture."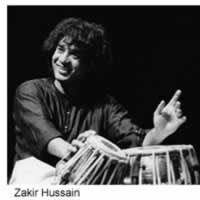 This concert was a tribute to legendary Indian tabla master, Allarakha (1919-2000) who died earlier this year. Ustad Allarakha Khan passed away on Feb. 3, 2000, at the age of 81, of a heart attack, within hours after hearing of the death of his daughter, Razia, 50, who died after complications during eye surgury earlier that same day. Allarakha was one of the greatest drummers of North India. A disciple of Mian Kadar Bux, the great guru of the Punjab Gharana, Ustad Allarakha is presently the most celebrated exponent of this style His masterful improvisational ability and genius for complex rhythmic patterns garnered him the highest accolades on his instrument, the tabla. Prime Minister Atal Behari Vajpayee, expressing grief at Khan's demise, said "the country has lost an accomplished maestro whose mastery over tabla created waves all over the world." "He strode like a colossus on the scene of Indian classical music and enjoyed a huge fan following among people of all ages and many countries," Vajpayee said.
Allarakha and Ravi Shankar were among the first artists to perform traditional Indian music in America. The principal accompanist for Ravi Shankar for over twenty five years, Allarakha toured with him extensively to every corner of the globe. In 1974, George Harrison (of the Beatles) performed with the two Indian masters on an American concert tour which helped to further popularize the art form in this country. Allarakha's exceptional qualities of freshness, ease and proportion have been enthusiastically appreciated by Indian classical music lovers throughout the world. His dexterity of technique and tone production and his uncanny command of the intricacies of rhythm have made him unique among India's musicians.
Master Ravi Shankar says of his dear friend, "His name will stand out in the annals of tabla playing as someone who gave new colour and dimension to this drumming. People who have heard us through the years in concert, and those who continue to hear us through audio recordings will never forget our togetherness (Jodi). His playing not only excites and makes people gasp, but makes the listener rapturously happy with the 'melody' they hear in his rhythms! He is remarkable as a human being. Unlike most outstanding musicians, he is so down to earth, simple, cuddly and loveable!"
Allarakha represented the Punjab school of tabla playing and was trained by the illustrious teacher Ustad Kader Bux. Khan, or Abbaji as he was popularly known, was based in Mumbai where he tutored aspiring musicians at his music institute. His sons, tabla master Zakir Hussain and Fazal Qureshi have followed in his illustrious footsteps. Mick Hart, a United States-based drummer, was also one of his disciples.
On Sunday afternoon, the large concert hall was packed. The thousands who showed up for this tribute concert were spellbound. and you could hear a pin drop during the performances. The concert featured two of Allarakha's sons, Fazal Qureshi in the opening set and contemporary master, Zakir Hussain in the second set, both performing on their legendary father's instrument. Joining Qureshi in the first set is Niladri Kumar on sitar, and Don Kirby on tambura.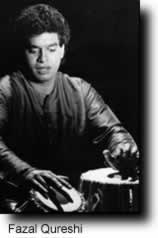 Fazal Qureshi, the second son of Allarakha, began his training with his father when he was very young. With his father's permission -- in the true guru shishya tradition, Fazal launched his professional career at the age of 19 and has performed both as a soloist and as an accompanist in India and abroad. Fazal is acclaimed for his eloquence and sensitivity, as well as for his versatility when accompanying Western instrumentalists, especially in the jazz tradition. He records with classical as well as with Indian pop and Western musicians.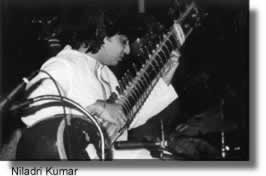 Niladri Kumar is the fifth generation of sitar players in his family and is a student of his renowned father, Kartik Kumar. He gave his first concert when he was six and, at twenty-seven, is already recognized as a remarkable musician. One critic declared, "there is nothing (in his playing) that sticks, halts or rankles, nothing that requires retouching or is slipshod." He has performed at most of the prestigious music festivals in India and toured throughout India as a soloist. When interviewed about a recent award (he has won many) he responded, "It feels good to win an award, but what is more important is the music."
The first set, which featured a beautiful 70 minute raga, began around 5:p.m. The set was dominated by the brilliant skills of the young sitar player, Niladri Kumar, who also displayed a great sense of humor, in addition to his mastery of his instrument. He introduced the trio, and spoke of his love for Allarakha. He then said he was honored to be with three of his hero's, Zakir Hussain, Ravi Shankar, and the reflection he saw when he looked into the mirror, ...himself. The audience roared with laughter. ( Ravi Shankar, at the last moment, was unable to attend due to health problems).
Kumar then began a slow enchanting raga, which slowly built for forty minutes with Roy providing the mezmerizing drone on the tamboura in the background. Kumar's playing was brilliant. It was an amazing hybrid of traditional raga forms with contemporary western modal embellishments. His touch was masterful. On some of the slower melodic lines, he would play a phrase simply by the pressure of his finger on a single string, bending the string to the exact pitch of 4 or 5 notes. His dynamics were also impeccable. On fast energetic passages, his playing was incredibly powerful, and on the quiet passages the phrasing was sweet and gentle. About forty minutes into the raga, Fazal Qureshi began to accompany him beat by beat , superbly on the tabla. The trio received a rousing standing ovation.
After the half-hour intermission, there was a touching 15 minute ceremony where musicians, friends, and family paid tribute to the late master. Each person came out on stage and placed a wreath of flowers around Allarakha' s tablas, which had just arrived from Bombay for the ceremony and set on a beautiful shrine. Zakir Hussain, the eldest son of Allarakha, offered words in praise of his father, and all shared a great deal of love and gratitude for the life of this wonderful human being.
The second set began at 6:30, and featured masters, Zakir Hussain on tabla, L. Shankar on violin and vocals, T.H. Vinayakram on ghatam and Don Kirby on tambura, who - for some mysterious reason, was not listed in the program guide.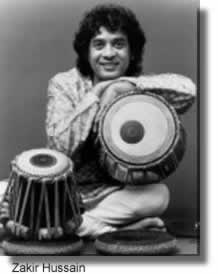 Zakir Hussain is recognized as one of the most brilliant and innovative percussionists performing today and is the most popular player of classical tabla in the world. He is the favorite accompanist for India's greatest classical musicians and dancers including Ali Akbar Khan and Ravi Shankar. His contributions to world music are unique, with many historic collaborations--including Shakti, which he founded with John McLaughlin and L. Shankar. He has recorded and performed with such diverse artists as George Harrison, Tito Puente, Van Morrison and the Hong Kong Symphony Orchestra. A child prodigy who toured by the age of twelve, Zakir made his U.S. debut in 1970 performing with Ravi Shakar at New York's Fillmore East. Zakir plays no fewer than 150 concert dates a year and has composed and recorded numerous albums and soundtracks. The recipient of many grants and awards, in 1988 Zakir became the youngest percussionist to ever be awarded the title of Padma Sri. In 1999 he received the National Heritage Fellowship, the highest honor given by the United States for a master of traditional arts.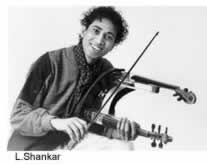 L. Shankar has performed some of the most mesmerizing, exuberant and technically perfect improvisational music to be heard on today's concert stage. A consummate musician, whether playing on the double violin--which he invented--or singing in his incredible five-octave range, Shankar brings a unique beauty and power to his music. Shankar began his musical eduction at the age of two under his father the esteemed V. Lakshminarayana Iyer and gave his first concert at seven. Deeply rooted in the classical music of India, he has worked as a producer, writer and performer with many Western musicians including Peter Gabriel, Frank Zappa, Phil Collins, Sting and Bruce Springsteen; and along with Zakir Hussain and John McLaughlin, founded the legendary fusion group, Shakti. He has also written and performed on numerous soundtracks including The Last Temptation of Christ, Jacob's Ladder and Robin Hood. A Doctor of Ethnomusicology, Shankar has been at the forefront in expanding the horizons of Indian music and as singer, violinist and composer. He has sold more than ten million albums worldwide.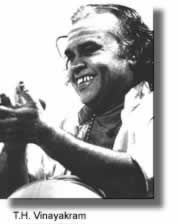 Vikku Vinayakram is part of a new generation of musicians devoted to expanding ancient Indian traditions. His early training came from his father, himself a master musician. Vikku's instrument of choice is the ghatam, the clay pot made for use as a percussion instrument. Vikku has accompanied today's foremost classical musicians and has played under the baton of Zubin Mehta. He has also shared the stage with John McLaughlin, Zakir and Shankar in Shakti performances, and was Mickey Hart's co-composer on the album Planet Drum which won a Grammy Award for Best World Music Album. To Vikku goes the credit of taking the ghatam to center stage in international concert halls. Vikku divides his time between touring and teaching at his school in Chennai (Madras).
The second set started out with quite a bit of tuning. Both Zakir and L. Shankar seemed to have trouble keeping their instruments in pitch. Also, L. Shankar was having problems with the monitor speakers being too loud. Luckily, soon everything was remedied, and the set got into high gear. L. Shankar began with a solo on his amazing double neck violin highlighting its incredible five-octave range. His virtuosity on the instrument was incredible. I've never seen anyone play that quickly with such finess and grace. The audience was mezmerized. That was followed by a long raga where all three masters joined in together. It began like a slow mantra, or prayer, with Shankar chanting a beautiful Hindu melody, and playing counter-point melodies on his violin. The raga built in intensity with Zakir and Vinayakram exchanging some real pyrotechnic riffs from one side of the stage to the other. The tabla, violin, and ghatam, calling and responding to each other with intricate rhythms that danced around Shankar's dervish-like melody. It was wonderful to watch how intuitively these masters worked together, each anticipating the other's next movement.
The concert concluded with a long percussion dialog. Vinayakram began the piece with a fifteen minute solo on the ghatam. Zakir then performed for approximately the same amount of time on the tabla. In that fifteen minutes it was clearly apparent why he has become so renowned for continuing his father, Allarakha's legacy, with such pride and joy. Vinayakram followed Zakir, once again, for a fiery conclusion to one of the finest concerts Royce Hall has presented this year. The group received a rousing ten minute standing ovation, a fitting tribute to a true master of North Indian culture, as a very memorable evening drew to a close.
Feature by Ben Kettlewell
9/12/2000
Contact Information:
The Music Circle
625 S. Madison Ave.
Pasadena, CA 91106
website: http://www.musiccircle.org
email: music_circle@earthlink.net
---





This site is copyrighted ®© AMP/Alternate Music Press, 1997-2017. All Rights Reserved.
Unauthorized duplication and distribution of copyrighted material violates Federal Law.