Malcolm Dalglish and The Ooolites
by Ben Kettlewell

Malcolm Dalglish and The Ooolites have taken folk music into a new realm with their album Pleasure, which features Dalglish's original compositions, his inventive hammer dulcimer playing, and the unique vocal acrobatics of his youthful "folk choir." There is a hearty authenticity in the way these powerful young voices weave sounds from cultures around the world into a distinctly American musical fabric.
Dalglish refers to his songs as "playgrounds" for singers. Many songs on the album launch the singers into a freestyle Celtic-sounding mouth music as in the title cut "Pleasure," the French Canadian "Reel a Bouche," or "Swifts" (a song about these acrobatic birds that sweep the summer skies above our towns). Flight enters the realm of dreams in "Pegasus" as the dark and modal melody of a Fourteenth Century Italian Laude takes off into an ethereal flying vocal carousel. Lullabies like the Northumbrian "Sheep in the Meadow" and old "critter songs" like "Bushy Tale" or "Woody knows Nothin" are like an old classic picture book. Dalglish draws on legends from his own people in his retelling of a Scottish Selchie story in which a seal assumes the form of a wild and beautiful woman, marries and eventually rescues her lover before returning to the sea.
There's also a spirituality running through Pleasure, as in the Ohio River roustabout songs, or "A Psalm of Life" (which sets to music one of Henry Longfellow's first poems after his wife's death), or "Fount" (an old hymn with new words in praise of the earth and our privilege to be here). The fiddling and clogging finale transforms the old American dance tune, "Sail Away," into a jubilant song of liberation.
Pleasure provides a broad sweep of musical forms: ballads, mouth music, lullabies, laments, old hymns, and dance songs. The accompaniment remains sparse and transparent, occasionally giving way to purely a cappella arrangements. The vibrant, spiritually uplifting voices of The Ooolites are set off by the masterful playing of some very ancient international percussion instruments. Dalglish's dulcimer accompaniment, heard throughout the recording is perfectly complimented by the delicate polyrhythmic textures of Glen Velez and N. Scott Robinson's frame drums, shakers, clay pots and mbiras. Percussive footwork kicks off the last cut on the record. A bagpipe opens "Epitaph," a song that won the Contemporary A cappella Recording Association (CARA) 1999 "Best Song of the Year" in the World Folk category. Into this Scottish lament are fitted the primal lyrics of Kentucky author/farmer Wendell Berry describing how we carry on the memory of a deceased elder.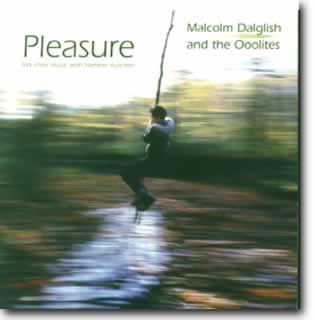 Berry's words as well as the earthy pulse of Glen Velez's hand-percussion also appear on Hymnody of Earth, another recent album by Malcolm Dalglish and The Ooolites. This song cycle is a transcendent celebration of nature. The music, first performed in 1990, was released as a CD that year by Music Masters under Dalglish's name, but featuring The American Boy choir. Since then, he has revised, expanded and published the piece for mixed choir. The more recent album on the Ooolitic Music label featuring The Ooolites "realized this new version of the piece with a vocal quality I had only dreamed about," says Dalglish. But what, you might ask is an Ooolite? An Oolite with two 'O's is a spherical particle with concentric layers found in the famous bedrock limestone of southern Indiana where Dalglish resides. An Ooolite with three 'O's is a Dalglish invention. He defines the name simply as "a word that's cool to look at and fun to say."
The Ooolites are a group of unique and powerful singers ranging in age from 12 to their early 20s. Voracious readers as well as letter and journal writers, they all lead full lives with wide-ranging interests. Various members are home-schoolers, trapeze flyers, circus acrobats, a drum major, mask-makers, knitters, instrumentalists, composers, cooks and pastry chefs, dancers, athletes and an ethnomusicology Fulbright scholar. All grew up in musical families where singing was part of everyday life and collecting songs from all over the world was like collecting baseball cards. Their self-taught style of singing has an unencumbered purity and their optimistic spirit perfectly expresses Dalglish's themes.
Malcolm Dalglish (pronounced Dal like Dallas and glish like English) brings a wealth of top-quality experience to The Ooolites' projects. As a boy, he toured the United States and Europe as a soprano and vocal soloist with what is now The American Boy choir. Highlights of these years include concerts under the direction of Leonard Bernstein and Eric Leinsdorf. While at Oberlin College, he joined a resident experimental theater group with Bill Irwin and Julie Taymor. In the summer of '72 he heard a hammer dulcimer (a large trapezoidal box with more than a hundred strings played with two small mallets) and a life-long study of the instrument began. While studying music education at Cincinnati College Conservatory of Music, he designed, built and sold more than 60 different and sometimes-experimental hammer dulcimers. His self-taught, culturally-hybridized style of playing this ancient international instrument has made him a frequent guest at dulcimer and percussion festivals.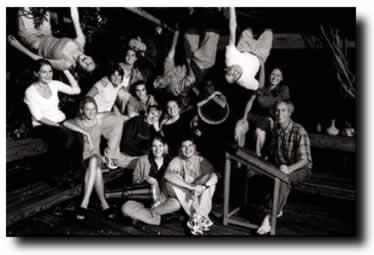 In the late Seventies Dalglish formed a duo with multi-instrumentalist Grey Larsen and recorded three albums -- Banish Misfortune (June Appal),The First of Autumn (June Appal) and Thunderhead (Flying Fish/Rounder), the latter featuring such top Celtic players as Kevin Burke and Michael O'Dhomhnaill. Dalglish and Larsen also performed the score for the Disney feature "Tuck Everlasting." In 1984 Pete Sutherland joined the group. Their new trio called Metamora produced an album by the same name (Sugar Hill), featuring Dalglish's now-classic "pop" song about new fatherhood, " Little Potato." Two more albums came from this trio, The Great Road (Sugar Hill) and Morning Walk (Windham Hill) which included guest pianist Phil Aaberg. During this same period, Dalglish recorded a solo dulcimer album, Jogging the Memory (Windham Hill), which has become a favorite for dance groups like Pilobulus and Momix. In addition, Dalglish's music has appeared on numerous samplers and compilations including seven on the Windham Hill label as well as Great Acoustics on Philo/Rounder and Sound & Spirit on Rykodisc.
In the 1990s Dalglish broke away from this folk/new age instrumental niche into the daring uncharted direction of vocal music which led to The Ooolites. He began composing, arranging and performing a new kind of folk-based choral music for young choirs. He now has over fifty commissioned works for choirs, and is a featured guest at choir festivals throughout the country. He has performed with many of these touring ensembles including concerts at Carnegie Hall, The Lincoln Center and London's St. Martin in the Fields. Choirs in the UK, Australia, and South Africa have performed his "Hymnody of Earth."

During these years, Dalglish has also toured his entertaining educational solo Wild, Wild Word Show, an extravaganza of mime, rhyme, rhythm and song that leaves young audiences with a new appreciation for the making of music and the music of words. "My compositions are rooted in folk traditions: early forms, styles, stories and dance patterns that have been developed by a people rather than one person," says Dalglish. "Originally there were no manuscripts. For generations the music traveled by foot and was passed on by word of mouth. It was shaped, and reshaped by the terrain of memory, imagination and voice. My pieces combine the ancient voices of the hammer dulcimer and frame drums with those of community vocal traditions from America and around the world. I've traveled with these folk instruments via the aural tradition and find the path is vibrant with humanity. Vast reservoirs of pleasure and meaning are to be found in the commonplace. My performances give people a new sense of that place. Writing for young or untrained singers is like building a magical instrument. If the material they sing is fun and resonates within them, the instrument plays itself, and the music will soar."

for more information:
website: http://www.oooliticmusic.com/
---
This site is copyrighted ®© AMP/Alternate Music Press, 1997-2017. All Rights Reserved.
Unauthorized duplication and distribution of copyrighted material violates Federal Law.