Serious Traditional Fun, with David Nigel Lloyd
by Mairéid Sullivan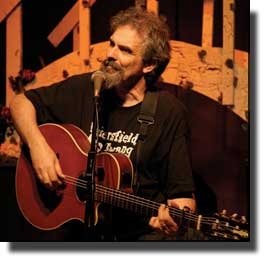 Song poets like David Nigel Lloyd deserve to be taken seriously. His command over his chosen style of music, and his "incredible Lloyd fingerstyle" is legendary.

Arts practitioners have to raise their voices higher, but it is hard when not enough people are listening.

AMP's Deputy Editor, Mairéid Sullivan recently had a chance to speak with David Nigel Lloyd about the current pressures felt by artists.
Mairéid Sullivan: We're arrived at a juncture of serious change - economy in tatters, habitat / health under serious threat, etc. How do you feel about the current 'atmosphere' for arts practitioners?
David Nigel Lloyd: That to me was the meaning of the Gerald Griffin poem I quote in Fall of Jack O'Lantern:
Castles are sacked in war
Chieftains are scattered far
Truth is our fixed star...
Suddenly I realized we artists of truth and freedom were all on our own, divided, fending for ourselves against the disinterest of the world.
MS. Can you tell us a bit about how you developed your particular style of arts practice?
DNL. I enjoy performing. As an artist, that is my anchor. Otherwise, I don't think I could deal with the disinterest. And, of course, you find people are interested when you perform. Just not many. There is a history, a poetry and a purpose to this music. Many people simply call it a lilt; and it has been my passion or obsession for most of my life. I've performed throughout the West, mostly as a solo artist, for 20 years."..."My mentor and sometimes teacher was the Scottish singer, poet and harper Robin Williamson — the same Robin Williamson whom Led Zeplin said inspired "Stairway to Heaven."
MS. How old were you when you found your instrument?
DNL. I was 16 when I took up the guitar. I worked very hard to develop a distinctive sound. So I perform, mostly in finger style, with three different guitars–non-traditional traditional music is unique but not without precedent.
Loosely categorized as a Celtic musician, David Nigel Lloyd's style uniquely blends British and American folk material with the acute perspective of the poet. "During the 1960s," Lloyd explains, "there was a wild group of players in Britain I call the non-traditional traditionalists. They saw the old ballads, Delta blues, beat poetry, and Zen teaching tales, for instance, as essentially the same thing. They were visionaries and they made some extraordinary music. Though their approach is mostly discounted today, we plan to reinstate it. We are firmly in that non-tradition."

Lloyd sings and plays steel-strung and classical guitars and the octar, an 8-stringed mandocello-like instrument. His performances and recordings have been hailed as "excellent" by the LA Times, The LA Weekly, and Folk Roots, Britain's premier folk music journal. Of DNL's recorded output, British folk music journalist, David Kidman had this to say: "A strongly individual musical and poetic mind is at work here." And, the LA Weekly, "Some serious traditional fun."
In his first years in Loa Angeles area, David Nigel Lloyd dabbled in theatre and film.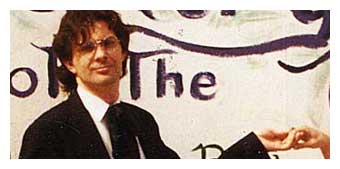 "I went to LA in 1975 for friends and for music. I stumbled into acting simply because it is the ubiquitous activity there. First, I began working on soundtracks for a few independent films. Soon followed various acting roles, including, the role of William Butler Yeats in COUNTRY OF THE YOUNG, by Susie Burke. It was a two-character play about Yeats' turbulent relationship with Maud Gonne, played by Moire Armstrong.

The Variety review went so far as to say I played the part with "magnificent obsession. The fine Irish actor Brendan Dillon directed us and from him I learned more about my voice than ever before or since. I've played a few more supporting roles since then. It has been fun to let acting find me, but I have remained the fool; I have not pursued it."
We are heartened that David Nigel Lloyd continues to pursue his music.

His CDs, YouTube videos, information on his guitar tunings and fingerstyle picking, as well as his song lyrics, with chords, and much more can be found on his website, here : http://www.davidnigellloyd.com/