On the Beaten Path, by Katherine Brown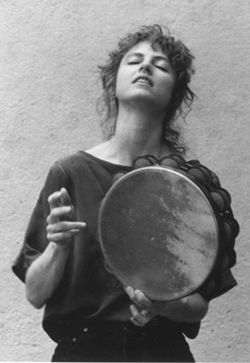 Your heartbeat is your connection to rhythm. Rhythm is the basis for everything in creation; from your breath to the motion of atoms.
There is great power in expressing this reality with drums.
The spirit and the body respond to the healing power of drums. Drumming's shamanic power is the same today as it was when women and priestesses were the caretakers of spirituality and bringing life to the Earth. Layne Redmond has spent almost twenty years finding out what rhythm's roots are. She is the author of a book, When the Drummers Were Women, two recordings, Being in Rhythm and Since the Beginning, and an instructional video which teaches people how to play tambourine frame drums, A Sense of Time.
Did growing up in Florida have any influence on you? Were you influenced by any of the Cuban music? "I grew up in a small town in western Florida with no live music. Even the church did not have a choir. Tap dancing was my rhythm training and I was a cheerleader for five years, leading chants at community rituals of football."
Inquiring what started her search for the history of percussion, Layne explained, "I started playing frame drum in 1981, and then started performing with Glen Velez. I discovered his slide collection of drums in history and wanted to ensure it was being properly taken care of. Seeing the slides, it dawned on me that the drummers were all women. I wondered what happened to the women drummers. Where were they? Who were these women and why were they drumming? Over the last six to seven years, I traveled the world doing intensive research and study. All the things I had loved to do over the years all came together in the book."
What led her to drums? "I saw Karen Carpenter play drums and I was inspired. When I played, I had the sense of being in a rhythmic trance union. When I took drumming classes, the majority were women. I started teaching in 1990, and in a year I found it was my niche. I had the benefit of being able to explain drums from a non-musical point of view. Drumming is a practice of entrainment, and to teach you have to get people entrained with you."
In comparing the difference between working with all-women groups versus groups of men and women drummers, Layne says it depends on who the percussionists are and the training they have had. "Men are encouraged to make a lot more noise. The audience responds differently to all-women drummers. When I performed with the Mob of Angels, it seemed that the audience was remembering something from the past that had been lost."
Would you consider the use of the grain sieve type of drums (which gave birth to the frame drum) be the first organized type of drumming? "The drum is older than the grain sieve. It's an archetypal idea of how to create life energy. I think they played the drum as they foraged for food and then thought, hey, I can put these seeds, and food in here. There are many correlations between the root word for sieve. The same root is used for drum. The archetypal idea of the sacred seed and the drum represents that.
What kind of growth and interest do you see in women and drumming? "When I was touring with Glen Velez, I was the only woman. Now most of the people in drumming circles are women. We need the same rhythmic communal activities together, such as evidenced by the resurgence in drumming, line dancing and clogging."
How much of your techniques are traditional and how much are your own creation? "All the beats I use start as traditional Middle Eastern, Turkish, or Southern Indian. Glen Velez synthesized rhythms and taught me his synthesis. I often use techniques from different cultures. If anything, I combine Brazilian techniques with Indian and Middle Eastern cultures and in the middle is a synastry. Certain groups can't say to me 'you're stealing my rhythms.'"
Are you still working with the Mob of Angels? "I worked with them from 1990 to 1994. I had to stop to write the book and then I was busy traveling to promote it. I have been doing workshops all over the country. I have been working with one of the original singers with Manhattan Transfer. We are working with voice and the frame drum; one of the oldest combinations."
Are frame drums harder to play than, say, congas or djembes? "Frame drums are initially harder because you have to learn to hold it in your hand and balance it. But we, as women, should decide that if it's something we love to do, we're worth an hour of time a day to study what we love. When you're happy, you make other people happy."
Katherine Brown is a freelance writer.
---
This site is copyrighted ®© AMP/Alternate Music Press, 1997-2017. All Rights Reserved.
Unauthorized duplication and distribution of copyrighted material violates Federal Law.