Tim Story Biography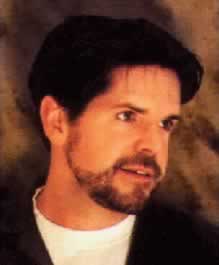 Tim Story was born in 1957 in Philadelphia, PA, and graduated magna cum laude from the University of Toledo in 1980. He currently lives in the small river town of Maumee, Ohio, outside of Toledo, where he is also partner in a commercial recording studio, Zeta Recording.
Tim's intensely personal style as a pianist and synthesist developed from years of experimentation in his home studio and a love of composition, rather than formal training. Along with his idiosyncratic, self-taught approach to the piano, Story saw the great potential of the new breed of electonic music instruments that were evolving in the mid-70's. This affinity for synthesizers, as well as electric guitars, tape loops and kitchen utensils, is evident in the early recordings.
Tim's work has come to be known for its haunting elegance and meticulous compositional detail. When writing and recording, he spends months carefully working and refining the shape of each composition until he achieves the desired emotional effect. His seemingly simple pieces distill harmonic and melodic ideas that are actually quite complex. "I like to work with a finite palette of sounds and keep paring things down to a pure, though often ambiguous, expression. Simplicity needn't mean simplemindedness. I think of the deceptively simple, ironic pieces of Erik Satie, or the lovely piano music of Debussy. The very best of these pieces appear so effortless and perfect that they seem like they've existed forever..."
" ...I guess a goal of mine is to get the listeners to put something of themselves into the music. I want to prod the listener to find his or her own feelings about a piece, even if those feelings are sometimes uncomfortable. As Charles Ives said, 'Beauty in music is too often confused with something that lets the ears lie back in an easy chair.' I like to think of good music as a sculpture or a Japanese garden, where you can never experience the whole from any one point. You must move through it, live with it for a while, before it yields its secrets."
THREADS was the very first album recorded by Tim Story between 1978-1982. Originally set to be released in France on the pioneering ATEM Label, unfortunately due to that label's untimely demise it was never issued. It wasn't until a decade later in 1992, that it finally saw the light of day on Eurock Records. When the initial release was sold out in 1996, the decision was made to re-master the album.

It was also decided to add as a bonus track the original version of the title track "Threads", which has a running time of 18:20.

Employing the latest no-noise technology and Tim's studio skills, this reissue is in many ways a brand new album. Recorded in the pre-digital era, the use of new technology has now enhanced the sound, adding a rich new spectrum of tone colors that makes the music all the more provocative and entrancing.

One of the original American ambient electronic musicians, IN ANOTHER COUNTRY was Tim's second album from 1982. Re-mastered beautifully from the original tapes, Tim's spatial synthetics and Satiesque piano melodies are enhanced by electric guitar and dark, surreal sonic textures. Now recording for the Hearts of Space and Windham Hill labels, his 1994 release, the soundtrack to a PBS feature, In Search Of Angels, has sold 200,000 copies to date.

Following the release of THREADS and In ANOTHER COUNTRY, the Eurock series of reissues by Tim Story continues with THREE FEET FROM THE MOON. Tim's fourth album, it was previously released only on LP in Norway by the Uniton label in 1985 & Ltd. Edition CD in Japan by Teichku Records in 1987. This special Eurock reissue has been totally re-mastered and two bonus tracks from the same time period have been added to enhance this already beautiful, exotic album. Its musical impact is best summed up in this review from Lotus in the UK, "it's simply brilliant… his most accomplished, cohesive, and musically endearing work to date... Not a second on the album is less than immaculate."
information: http://www.bee.net/cardigan/timstory/
---
This site is copyrighted ®© AMP/Alternate Music Press, 1997-2017. All Rights Reserved.
Unauthorized duplication and distribution of copyrighted material violates Federal Law.