ZONE UNKNOWN
An Interview with Gabrielle Roth
by C. N. Holland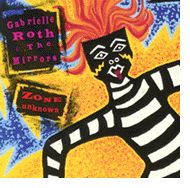 CNH: ZONE UNKNOWN is such a great name for a recording; what's the story behind it?
ROTH: ZONE UNKNOWN is very fascinating to me. I always consider Gabrielle Roth and The Mirrors makers of world beat music without any specific world to identify with; and with this album, it was kind of like going into this new zone, an unknown zone. I'd be listening to the music and feet like I was in downtown Manhattan; other times I'd feel like I was in outer space. It was like moving through these different zones, none of them having a particular Iocale but rather an inner zone, a dance zone.
CNH: Can you describe a bit of the recording process for this album?
ROTH: It takes a year to do an album; it's a process interrupted by many other creative processes like writing books. Sometimes it's hard to hold all the threads; a project can start out as one idea and become something completely different in its finished version. ZONE UNKNOWN is unusual in that it started out to be dance music and maintained that persona. I wanted to explore the kind of dance music we use in warm-up for workshops and classes -- really good dance music. It has a fast-fIow vibe to it; steady with a bit more techno flavor than anything else I've done. I'm still using all Jive drums, but we're using more electronic keyboards this time to give it a more cutting edge fee.
CNH: Is the music arranged or improvisational? ROTH It's all improvised, spontaneous; nothing is ever plotted out. We lay the music down track-by track with each musician responding to the last musician's performance. The music builds dramatically because each player responds so intuitively. This means a lot of takes because of mood chants or sudden bursts of inspiration. (Laughs) We've erased a lot of music to get to ZONE UNKNOWN.
CNH: When someone listens to ZONE UNKNOWN, do you see them creating their own zone or does it take them through the same patterns each time they listen to it?
ROTH Actually, there are a lot of worlds in there. The listener can investigate different worlds at different times, depending on where they are, what they're feeling. Each song will mean different things to different people at different times. ZONE UNKNOWN is an album of "exploratory" dance music. I see people making love to this music, dancing, working out, running, using it for all types of movement - any kind of energy workout.
CNH: With the rise of rave in North America, do you see songs like "Buffalo Dream" or the title track being club fare?
ROTH: I can see the entire album enjoyed in clubs. Every club has its own persona and types of music that it plays. I'm committed to live drums; this music is tribal dance. They play the music of Gabrielle Roth and The Mirrors in a lot of the rave clubs in Europe. In fact, they even do the "Five Rhythms" in places like Metropolis in London. Whatever I do creatively speaks to that dance culture, so ZONE UNKNOWN should be received enthusiastically.
CNH: You stated the inspiration for this album was drawn from the warm-ups you do in workshops and classes. Will you be using ZONE UNKNOWN in your classes?
ROTH: I'll definitely be using this album in my classes and work. There's just a lot of time when we just dance, so I wanted to make continuous dance music. All "five Rhythms" are a part of ZONE UNKNOWN, but my intention this time was to go with a real steady dance-type beat.
CNH: The Mirrors represent an exceptional group of musicians. The creative energy surely must be extraordinary.
ROTH: It is incredible. There are so many wonderfully talented people, old and new, working together on each of our albums. We co-create a multi-visionary world in the studio, with the musicians envisioning and contributing their own landscape to the music. No one person controls our process. I may suggest a certain direction for us to follow, but it's a lot of give and take. We may start in one place and end in another. It really comes down to the poetry in each musician's bones and how this poetry plays itself out in their contribution to the piece. That's what makes the musical journey interesting.
CNH: How do you determine the starting point of each journey?
ROTH: We start with a drum bottom as the base. From there we determine what instrumentation will best take the music to its next level. What type of bass will move this rhythm forward? Which pitch instrument will accentuate our direction? It is an intuitive process that builds gradually on itself. A unique metamorphosis occurs on every journey that begins with a primal rhythm. All the musicians on this album were picked to fit what was happening in each song. For example, driving percussion became the focus on "Buffalo Dream." Lenny Kaye's exceptional guitar talents took this percussive rhythm straight into the streets. Then there's "Jamu" which is powered by trance drumming Jai Uttal's blues guitar gave the trance mood and depth. And the intensity of "Tracks" cruised into the techno realm with Harvey Jones' unique flair for synthesizer.
CNH: ZONE UNKNOWN is a marvelous sensory journey with it's varying tempos. With the human heartbeat being between GO-70 bpm and most rave music ranging from 1 20-1 30 bpm, were you aiming for certain tempos for specific tracks?
ROTH: Well, once again, it is an intuitive process. We knew at the outset that this album would have some intensity but the tempo of each track was determined by the nature of the bottom song and the bottom drum song is usually a rhythm that was created in a workshop or performance, so we know it dances." Once the bottom drum was laid, we listened to see what sang out from the rhythm. You see, the process is far from rocket science. By listening and feeling the bottom track, we find what tempo rings true. (laughs) We threw a lot of layers away to get to the perfect feel for each song. It's an artistic process; when it's right, it feels right. You just know.
---
GABRIELLE ROTH is an internationally known artist whose workshops at Esalen Institute and The Moving Center have helped thousands free their bodies and explore their capacity for ecstasy. With her band The Mirrors, she has released acclaimed albums of tribaI-dance rhythms that have defined the cutting edge of shamanic trance music. Roth's career in trance-dance began when a knee injury ended her hopes of becoming a professional dancer. Her doctors said she would never dance again; retreating to the EsaIen Institute to recover from her disappointment, she met Gestalt therapist Fritz Perls who urged her to teach movement to his troupe. She proved the doctors wrong when, during a drumming jam, Roth couldn't resist the urge to move and so discovered the joys of free-form dance, bad knees and all. Remembering simple movement exercises she had taught in chiIdren's groups, hospitals, and senior centers before she became a professional dancer, Roth returned to her original goal of empowering people through the creative process.

On a trip to Europe, she encountered another dancer whose raw, impassioned approach to movement would change her life. Watching a performance by La Chunga, a gypsy who was fired by ecstasy, Roth decided to explore the deep-seated power of ecstatic trance-dance. She formed a dance-theatre company, Gabrielle Roth & The Mirrors, to explore cathartic ritual performance; the group evolved into a band of the same name that has since recorded nearly a dozen trance drumming/dance albums. Roth's first book, Maps to Ecstasy, has become a U.S. bestseller, and has been published in nine foreign editions. She has recently completed her second book, Sweat Your Prayers, available in hardcover December 27, 1997, from Putnam. She spends much of her time teaching workshops on ecstatic movement and ritual theater internationally and at her own Moving Center, which she established in New York City. She founded Raven Recordings with her husband, Robert Ansell, to have an outlet for music that wasn't dependent on mainstream tastes. The label offers albums from numerous artists, including Chloe Goodchild, the band Native Ground, Daniel Lauter, and Suru Ekeh.


Interview by C.N. Holland
---
This site is copyrighted ®© AMP/Alternate Music Press, 1997-2017. All Rights Reserved.
Unauthorized duplication and distribution of copyrighted material violates Federal Law.