Natural Harmony
by Dan Liss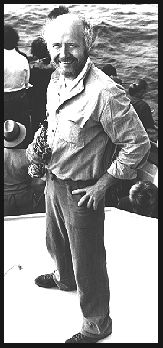 Whales, wolves, birds, canyons and rivers shaped Paul Winter's ideas about music as much as other people. An avid environmentalist, he began incorporating nature sounds into his recordings in 1968. A true world musician, his acoustic consort (soprano sax, cello, vocals, bass, keyboards, percussion) has performed and recorded in 35 countries. His 30 albums, including Prayer for the Wild Things, Spanish Angel, Earthbeat, Earth Mass, Icarus, Common Ground and Callings, have won numerous awards. His new album is called Canyon Lullaby. We had an opportunity to speak with him recently.
Canyon Lullaby is your first solo album isn't it?
"Yes, it is and it's something I've been wanting to do for a long time. Sometimes it's easier to play solo than with an ensemble. The more instruments you have in a group, the more confusing and muddy the sound can get, especially in a natural amphitheater like the Grand Canyon."
Why is the soprano sax your instrument of choice?
"I love playing outdoors and the soprano sax projects well. I look for ways to be at home playing in the outdoors and then bring those sounds indoors into the concert halls. The soprano sax seems to have a kinship with some sounds from nature. It has the capability of creating a variety of sounds, personal sounds, and the bending of notes. Every instrument has its own magical soul, and these are part of what makes this one special. "Since the 1960s, I have had a vision of the sorts of sounds I want to create. I'm still striving for a level of expressiveness which has a vocal quality. The voice is the ultimate instrument and it sets a standard that many instruments strive to achieve."
You've had a number of excellent musicians work with you over the years: Nancy Rumbel, Glen Velez, David Darling, Eugene Friesen, Paul McCandless, Ralph Towner, Noirin Ni Riain, and many others who have also been successful and had their own recordings. How do you find these people to work with? "Each musician I met in a different way. I met some at concerts, workshops, or through word of mouth. What I look for in the musicians I work with is a depth of commitment to music, people who like to explore new paths, have experience in equivalent backgrounds, such as classical, jazz and ethnic music."
In the album notes, you mentioned that while you were recording in the Grand Canyon, you were missing your wife and child. Is that why there is a melancholy sort of feeling to some of the melodies? "I don't think of the melodies that way. I learned something more from Noirin that comes from the Celtic tradition, about the close connection between lullabies and lamentations. Lullabies are about what's going on in the psyche of the mother as well as lulling the child to sleep. These are the moments when the mother is giving voice to her deepest feelings."
What did you mean when you said you felt something maturing in the music on this recording?
"I felt that the melodies could stand on their own, where the harmonies are implied, like in Bach's work. It was another aspect of creating melodies appropriate to the Canyon and my feelings."
Do you feel that you are communicating with the other creatures when you are playing out there?
"When you live outdoors, you acclimate to the ambient sounds. They all exist within a continuum, they're just there. When I play the recordings back, I'm always surprised at the serendipity of something like the appearance of a raven's call. the great thing about wildlife voices is that they are never wrong. I'm so glad they stay while I'm there. Usually the animals and birds run away when people come, but once they get used to you, they will stay around. I've stayed away from speculating about whether we're talking to each other, although many times a bird will sing right after I play. I don't know why that is. It's part of the mystery of life, and I think it's fine if some things stay a mystery."
In your world travels, do you notice a greater environmental awareness among the people of other countries?
"Yes. When I went to Russia for the first time in 1984, there was only guarded talk about the environment. When I went back in 1986, our concert was sponsored by the Ecology Club at Moscow University. When I went to Japan the first time in 1977, there was not one environmental organization. But that's all changing as we all become more conscious. We all need clean air, water and food. No species fouls its own nest and survives. The environment is the most inclusive issue, because it involves everybody on the planet. the more people get involved, it will keep the pressure on politicians to act intelligently and honestly."


---
This site is copyrighted ®© AMP/Alternate Music Press, 1997-2017. All Rights Reserved.
Unauthorized duplication and distribution of copyrighted material violates Federal Law.