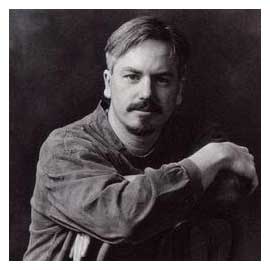 An interview with Michael Gettel
by Dan Liss
The way Michael Gettel blends the sounds of his piano with whales, wind, water and birds in his albums San Juan Suite and San Juan Suite 2, it sounds like they are all part of his band. His precise placement of the nature sounds is so finely positioned that at first the listener might hear them as other musicians working from the same score. They are all part of the inspiration he draws from the islands in the Puget Sound. San Juan Suite, his first recording, which featured solo piano with these nature sounds, was recently remastered with two new cuts added. After several other albums featuring more of a "fusion type of sound" as he described it, he wanted to go back to a more stripped down sound. He chose to collaborate with Sandin Wilson, who had played fretless bass on other albums with him, to create San Juan Suite 2. Gettel's highly unusual choice results in stunningly beautiful music. With only these two instruments, piano and fretless bass, they have created something so rich and beautifully textured that I found myself checking the liner notes to see if there were other musicians. The only other human participation was from Randy Sherwood who contributed vocals on two cuts. I wondered how these elements were assembled so seamlessly. The fluid fretless bass weaves smoothly in and out of the piano lines. Some musicians simply use the nature sounds as a background and place the music in the foreground. Gettel's method is similar to the way Paul Winter blends nature sounds and music.
"I listened to all kinds of recordings of humpback whales and orcas until I finally found one I thought would work best. If you listen closely, the orcas have more texture. To me, one of their voices can sound like more than one, like overtones, where the humpback whale has a more solo sound. Some sounds are so high pitched that they are hard to compose around. So when we were in the studio listening, it was more of a feeling to findexactly where the sounds would fit in. On the cuts where we used Randy'svoice, the object was to have the vocals mimic the whales. Much of San Juan2 was recorded spontaneously, with few overdubs."How much does your music change between the composition and actual playing?"Very little. I compose in my head, so by the time I write it down, that's pretty much the way I want it." Then what happens when you work with others? "It takes on some of their vision too, so you have to be careful not to compromise what you're doing. It's important to listen to how it all fits together, because there's always something of the control freak that wants to keep taking charge. Working with just piano and bass I feel very vulnerable. There's greater openness and ability to express deeply, but it's also possible to hear any errors or risk failure, where a band allows more spontaneity." Nature seems to be the dominant source of your inspiration. "Much of it is, on albums like Skywatching, Return, The Art of Nature, and Places in Time, although my album Keys was dedicated to my relationship with my wife, family and other key people in my life. Winter was an album I wanted to do because I love the season and I had never dedicated an entire set of work to it. So there were some new pieces and some from my previous albums, but hey all addressed some aspect of winter." I recalled a part in John L. Petersen's book, Out of the Blue, where he predicts that Christians will become more of a factor in the environmental issues as they have in other movements. Petersen predicts that more people will wake up to the idea that "You can't love the Creator and destroy His creation." These ideas both strongly influence Gettel's music. He includes information in his album notes on organizations which do whale research and work to protect them, and he also attributes inspiration to his Christian faith. "My faith helps me appreciate creation and provides a large degree of inspiration. I'm getting ready to go hiking and backpacking for two weeks. I'm pretty much a solitary person. When I spend time in some of these wonderful places in nature, like our national parks, I marvel at all of the majestic things God has created. I need to acknowledge the source of all this, and I like to do it non-verbally, through my music."

---
This site is copyrighted ®© AMP/Alternate Music Press, 1997-2017. All Rights Reserved.
Unauthorized duplication and distribution of copyrighted material violates Federal Law.