Rudess Morgenstein Project (RPM)
"The Dynamic Duo"
by Penny Muck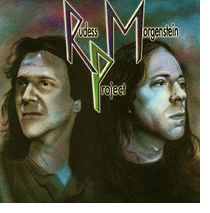 Shattering the boundaries of instrumental progressive rock music, the Rudess Morgenstein Project (a.k.a. RPM) have cranked out ten musical cylinders which, one minute, rev through a fusion of classical, jazz and pop stylings and,in the next, shift gears into clutch popping high intensity rock with the latest in 90's music technology. Steering the listener off the windy path of assembly line rock, this dynamic duo of award winning musicians have taken the driver seat, pushed the pedal to the metal, and are heating up the engine! Adding their self titled release to careers which include recording and touring with the likes of Winger, Dixie Dregs, Paul Winter Consort, Enrique Iglesias, Steve Morse Band, Tony Williams and Jan Hammer, drumming legend Rod Morgenstein and keyboard virtuoso Jordan Rudess are speeding your way..Headlighting this CD is the first track, "Don't Look Down", a fuel-injected, mind blowing epic journey which Rod says, "represents a lot of what this band is all about.."
During Jordan's first gig with the Dixie Dregs in '93, a sold out gig in Fort Lauderdale, Florida, a sudden power failure shut down all the rigs except for Jordan's and Rod's (thank your local waterand power company for this one). What followed was a 10 minute drum/keyboard power-duo jam which brought down the house.
Jordan remembers - "It was a little shocking when the rigs went down, but I learned early on to never stop playing in the middle of a tune. I switched to a huge sounding patch and kept jamming with Rod. It was awesome how cool this completely unexpected two-man jam was".
Voted Best New Talent in 1994 by Keyboard Magazine's readers and second to Keith Emerson in the Overall Best Keyboardist category, Jordan is an inspiration among keyboardists. Receiving his classical training at the highly respected Juilliard School of Music from the tender age of nine, Jordan's keyboard and compositional technique strongly reflect his background. "It all started when I was nine years old and my 2nd grade teacher called my mother to tell her how beautifully I was playing the piano. My mother was startled as she had no idea I'd ever seen a piano! The next week there was a baby grand in the living room."
Rod Morgenstein is one of the finest drummers on the planet. Honing his craft at the renowned music department at The University of Miami, Rod was a founding member of the ground-breaking, jazz-fusion quintet, the Dixie Dregs who have been nominated for 6 Grammies. Switching gears, Rod also was a member of multi -platinum, 80's rockers Winger. Winger received an American Music Award nomination for Best New Heavy Metal Band in 1990. His drumming has earned him a reputation many musicians dream of. Modern Drummer Magazine voted him 5 years in a row ('86-'90) Best Progressive Rock Drummer. This recognition earned him prestigious placement in the magazine's Honor Roll.
The 1997 release of the self entitled Rudess/Morgenstein Project is a dream come true for both musicians. All songs were written, arranged and produced byJordan and Rod and their hope is to capture an audience that is as much in love with music as they are in making it. Incredibly, in concert 98% of the show is completely live with no tapes and no sequencers. Their two-man power duo has captivated audiences for the past year where they have opened for Dream Theater and the Steve Morse Band to rave reviews.
Fasten your seat belt for a ride you will never forget!
information:
Domo Records
2211 Corinth Ave #100
Los Angeles CA 90064
310.966.4417 direct
310.966.4420 fax
---
This site is copyrighted ®© AMP/Alternate Music Press, 1997-2017. All Rights Reserved.
Unauthorized duplication and distribution of copyrighted material violates Federal Law.