Frank Zappa's musical lineage is, to be kind, bordering on immeasurable. From the jazzy stylings of George Duke in the '70s, to drummer Terry Bozzio and the legendary "Black Page," to a string of brilliant guitar voices like Adrian Belew, Mike Keneally, and Steve Vai-- the man knew how to take talented people, exploit their individual gifts, and make powerful, awe-inspiring, and genre-bending musical statements.
To some Zappa "freaks," nothing that was made after the early '70s mattered. This writer's age will show, but when I started playing drums fifteen years ago, a friend of mine made me check out this guy named Vinnie on the triple-album called "Joe's Garage" (released in 1979). Sure, Vinnie Colaiuta destroyed me, and probably every other prospective drummer who heard him. The concept of playing "out" has never been the same.
But what killed me even more was the cohesive package of theatre, which to some was basically a less "prog" and more palatable version of Rush's "2112." Boy discovers music, music very bad (illegal), tragedy. Of course, Frank mixed in wet T-shirt contests, groupie lore, and robot sex subject matter with brazen 17/16 passages-- it was truly musical theatre of a very high order. And as with anything theatric, the lead voice is of the utmost importance.
The lead voice, Joe? A then 21 year-old Ike Willis. The St. Louis native went on to be one of the most recognizable elements of Frank's touring groups from 1979-88, his "bionic baritone" and humor permeating "Thingfish," "You Are What You Is," "The Man From Utopia," and much of the titanic six-volume live opus "You Can't Do That On Stage Anymore." Since being asked by the man himself to carry the torch (more on that later), Ike has collaborated with tribute bands like Project/Object (www.projectobject.com) and Banned From Utopia, and has released two funky solo albums-- "Dirty Pictures" and the currently out-of-print "Should'a Gone Before I Left." I got the chance to speak with Ike while touring with the Zappa tribute group Project/Object.

Don Zulaica: When did you first get into music?
Ike Willis: My mom was a jazz singer. I'd been trying to sing from the time I was two, I started playing guitar when I was eight. Started running my own bands when I was nine, started gigging then. Back in the '60s.
DZ: What were you into at the time?
IW: Everything. Anything from the Beatles to Motown to classical stuff.
DZ: Any formal training?
IW: Nope. Just an old Mel Bay chord book, my acoustic guitar and just watching people on TV and listening on the radio.
DZ: Guitar-wise was it pretty much the standard icons-- Clapton, Hendrix?
IW: Oh yeah. Hendrix, Clapton, Wes Montgomery, the Beatles, Smokey and The Miracles, Stevie Wonder, and on and on. Back when everything was on AM radio, this was just a few years before FM was finally de-classified and they let people use it for radio stations. Those are the days when you could hear anything on the one radio station.
DZ: Where did you go to college?
IW: Washington University in St. Louis. I majored in political science, pre-law.
DZ: So what happened there? When did you decide you wanted to play guitar for a living?
IW: Oh, I'd always wanted to do that. I was eight years old going, "Well I'm going to be doing this." But, you know, I was doing the familial obligations to the parents and stuff like that, going to school-- plus I'd been in school my whole life anyway. I went to boarding school in Georgia, and then to college, but the whole time I'd been gigging with my band, from grade school on. Back in the '60s during love-ins and art festivals, playing in coffee shops, clubs. Music was everywhere.
DZ: You're going to make me cry. The Bay Area has seemingly become one big silicon chip-making building. All the clubs are gone.
IW: Aw, man. I remember the first time I toured with Frank back in 1980, going up to Portland. And there was a pretty vibrant scene there, they were into everything. And then I came back in '84, and certain clubs that had been around for years had closed down. Then when I came back in '86, even more closed down. And when I moved up there in '88, it was like, well...hmm. Over half the clubs had been shut down. That's why I don't really gig in Portland. It's where I live, it's my headquarters, it's where I raise my kids. When I go to work, I usually leave the state or the country. Now my kids are heading off to college, and once that happens, my wife can come out traveling with me again like we used to, before we started having kids. Because my wife and I have been together since since Washington U-- before, during and after Zappa. My son, Isaac, Ike III if you will, basically grew up in Frank's rehearsals...

DZ: Sounds like Josh Freese or Brooks Wackerman [drummer Chad's younger brother].
IW: Oh, Brooksie and Josh, yeah. They are so killer now. I remember when Brooks came in, he was what-- seven? And Chad goes, "This is my little brother Brooks. Come here, Brooks, do this, play something." And everybody is just standing there with their mouths open because Brooksie was just roastin'! And now he's carrying on the fine Wackerman tradition.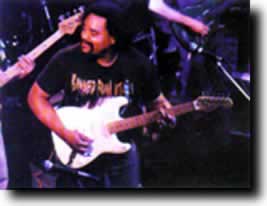 DZ: When did you first get introduced to Frank?
IW: Well, my best friend ran over to my house with a copy of "Freak Out." 1965. I was ten years-old, and I went, "Oh man, what's this?" It was intense. It was beyond the pale, way off the page, man.
DZ: How did you get introduced to him literally, and get into the band?
IW: Well ten years later I was in college at Wash-U, and he came to do a concert. At that time, I had already been gigging for 12 years, had my own bands, writing music and things like that. And one of my classmates was the head of the concert committee, and he conned the board of regents into plopping down enough money to have Frank come do a concert. And I had him put me on the local crew so I could take notes. You know, for my edification, considering I had a band and long-term I knew this was what I wanted to do-- I might as well learn from the best. Over the years I'd paid attention to what Frank was doing.
DZ: This is '75, so this is George Duke, Chester Thompson, Napoleon Murphy Brock.
IW: Right. The "Roxy and Elsewhere" band, what I called "The Dream Band." George, Nappy, the Fowlers, Ruth [Underwood, percussionist]. So in '77 he came back and I was in the local crew again, hangin' out with his crew and whatnot. And I got pretty tight with the lighting guy. Everybody was running around, singing the tunes, and I was just right along with 'em. And he said, "Man, we ought to introduce you to Frank." And I'm like, "No, no, I'm just here to take notes." And after soundcheck, we just met. We just happened to bump into each other. We met and sat down, he invited me over to his table while we were eating after soundcheck and we just started talking. We ended up talking for two hours. He invited me backstage to watch him warm up. And I told him, "I'm going to school here, I've got a little band, I'm just here to take notes, I don't want to bother you or nothing like that." He ended up handing me his guitar and making me play and sing. And he said, "Well, do you know this?" "Well, yeah." "Well how about that?" "Well, yeah."

DZ: What tunes?
IW: "Carolina Hardcore Ecstasy." He grabbed a napkin and wrote down the rudimentary chords for "Bamboozled By Love" and the words, made me sing that. And it turned out to be like a little backstage hootenanny, before the show. And he immediately asked me to write down all my vital statistics, address, phone number, "because I have auditions every year." At this point in time, it was the beginning of the "Sheik Yerbouti" tour. He said, "When I get off tour, I'd like to have you come out to LA and audition for the band. I always have auditions." And as a result, I ended up replacing Adrian Belew in '78. And the rest as they say...
DZ: How old were you when you did "Joe's Garage?"
IW: 21.
DZ: Jesus.
IW: [laughing]
DZ: I don't know how many musicians I've talked to that just point to that album as monumental. Countless. I mean, I've been foolin' with the drums for half my life and there was a definite Vinnie Colaiuta epiphany for me.
IW: Vinnie and I got hired on the same day. In fact I helped audition Vinnie. When I came in to audition, Vinnie came in two days later. "Joe's" was our first album.
DZ: Do you have any special memories from any particular band? You were in there from "Joe's" until the last tour in '88.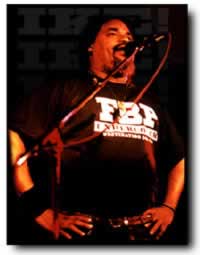 IW: The years with Vinnie were just incredible. And during that time I met bass player Arthur Barrow, and Artie introduced me to Tom Fowler, who he was taking bass lessons from. And Tom told me about a group of their own called Air Pocket, and they needed a new vocalist. So I was playing with the Fowler brothers at the same time I was playing with Frank. That was a dream come true. Tom, Bruce, Walt, Steve and Ed. A lot of people don't know there's five Fowlers, everybody thinks there's only three. From the beginning of my being in Frank's band, I'd always campaigned to get the Fowlers back in there, since they were in "The Dream Band." It's only right. [laughs] And when they did come back, in the '88 band, oh man. Truly the best band we ever had, no question.
DZ: I also wanted to talk about your solo albums. When did "Should'a Gone Before I Left" come out?
IW: 1987. While we were in rehearsals for Frank's "Broadway The Hard Way" tour, I got that released when I was with Enigma. It's out of print now.
DZ: How was Frank during this time, in terms of you doing your own stuff?
IW: Oh, he was my biggest supporter. He always liked my solo material, because basically I never tried to clone him. Other people have. Frank taught me everything. He taught me how to produce, engineer, all the little knick-knacks that go along with doing an album. He was right there behind me all the way.

DZ: How much later was "Dirty Pictures?"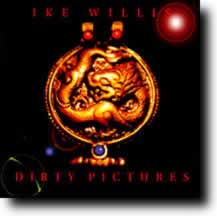 IW: That was about ten years later, released on Muffin Records since I did some touring with The Muffin Men. And I'd been putting together a whole new Ike Willis Band up in Portland and got that going. And then Muffin went under a couple years ago, but "Pictures" is available on my web site [www.ikewillis.com]. I own all the masters to both albums, and am in the process of finding backers so I can press my own copies. So
stay tuned!
DZ: And is there new solo material in the can?
IW: Oh yeah. I've got at least a couple more albums worth of material ready to go now. As time goes on, in between tours, I'll be putting that stuff together.
DZ: How did you get involved with Zappa tribute groups like Project/Object?
IW: With Project/Object,. Andre [Cholmondeley, guitar] and Mambo, one of our drummers, I've known them since I was 16. I first met them when I came back east to do some stuff-- I think I was at Jones Beach, playing a show out there on Long Island. We just started talking and had a good time.
Since then I'd kept contact. And then a friend of theirs moved out to the west coast, just before I moved to Portland, Oregon, in '88. And he tells me, "You remember Andre and Mambo? They've got a band, and they're really gettin' good." In '97 I went to Israel with Banned From Utopia to do a gig with the Israeli Chamber Orchestra, and the day I got back from that gig, he told me, "You've got to call Andre. They really want you to come out, they think they're ready for you."
DZ: What was your first meeting with P/O like, and how far have they come?
IW: Oh, God. I mean, they blew my mind first off. And they've come so far, second off, it's just amazing. I've been with these guys since '97.
DZ: What's the material? Obviously, this is a discerning audience you're playing to.
IW: Jeez, we're playing everything. This year they're doing "Strictly Genteel," "Inca Roads," "Echidna's Arf," and "Don't You Ever Wash That Thing?" The usual hard stuff.
DZ: What's Andre's background? Berklee grad?
IW: Oh no, no, no...none of these guys...
DZ: All self-taught?
IW: Yep. None of these guys belong to the usual routes that most musicianship like this comes from. Pretty much just like me. Self-taught, just worked hard at and got to the point where it's just, you love the music so much you gotta play it.
DZ: What do you think Frank's legacy is?
IW: Without a doubt, I think he's going to be remembered as one of the most important composers, producers, and performers of the 20th century. No question about it. Especially as a composer. As far as the so-called "masters," Frank is right up there with them. I always felt that.

There's such an incredible body of work, it's insane. That's basically why I'm doing what I'm doing, he basically asked me to help keep his music alive for him. So that's what I'm doing.
DZ: He did?
IW: Oh yeah. And I'm only too glad to do it. It was in '93, about a week before he died, I went to visit him at the house. When he asked me, I said, "Well yeah! Of course I will." I was really honored that he asked me to do whatever I could to keep his music alive, whatever form it took. And essentially, after he passed away I started getting calls from these different groups. The Muffin Men, Andre and Project/Object, then there's this group in Florida called Bogus Pomp that called me a few years later. There's a group in Brazil called the Central Scrutinizer, I've played with them. Just keepin' it going. I love playing that music, and I missed not playing it. So it's given me the opportunity to get my Zappa fix in.

For more information:
http://www.ikewillis.com
http://www.projectobject.com
htt://www.zappa.com
---
---
This site is copyrighted ®© AMP/Alternate Music Press, 1997-2017. All Rights Reserved.
Unauthorized duplication and distribution of copyrighted material violates Federal Law.