An Interview with Jason Sloan
by Matt Borghi


Over the course of the past year, I've had the luxury of meeting, not only, one of the finest composers working in Ambient music, but quite possibly one of the most gifted and brightest shining young artists working on the contemporary scene today. The man that I'm speaking of is Jason Sloan, aka J. Sloan.

Jason Sloan is a Baltimore, Maryland-based visual performance artist, and an excellent composer/ sound, video and installation artist, a true renaissance man, and if all of these endeavors aren't enough, he's also a part-time professor teaching in various university departments all over the Baltimore area.

I've had numerous conversations with Jason by email and by phone and not only is he a great artist, he's a provocative and insightful individual who has provided me with myriad ideas and insights into art, aesthetics, music, and life as a whole.

As a music journalist and artist I've had the misfortune of working with quite a few artists that certainly don't reflect the inner goodness or richness that they like to create as an image for themselves through their work, this is especially true with some of those artists that are working in the Ambient/ Space/ Atmospheric music genre, as a lot of the music has quite a transcendental feel, yet, often times, the folks creating these majestic sonic sculptures of spirituality, meditation, and inward thought are ego-maniacal, self-interested, narcissistic, and uninterested in anything that doesn't yield something exclusively beneficial to themselves; I think it's these last few points that really make Jason profound to me as a human-being and artist. Jason's a humble, and extremely creative artist that cuts right to it; he's the genuine article, a real artistic thinker, the likes of which we don't have enough of these days.

Perhaps I should get into how I first heard about Jason and his music. As I mentioned above I'm quite active in the Ambient/ Space music community, of which there's a large constituency on-line. I was reading a post on one of the mail groups that I belong to, I believe that it was the Spacemusic group hosted this time by YahooGroups, but in four years, it's seen nearly as many hosts. Somebody posted something about Vidna Obmana having some interest in a guy by the name of J. Sloan. At the time I was writing for my own Web review ezine The Organization of Sound.com and was always searching for new artists. I emailed Jason about getting some of his music for review, and to use a burned out cliché, the rest, as they say, is history.

Jason and I corresponded back and forth for a long time via email, but everything changed for me when he sent me a package that included the twenty minute version of his A Shoreline of An End. The work started with children playing similar to the opening of Kevin Keller's 1999 work Pendulum, but from there it moved into something majestic and beautiful. I could say easily that Jason's work is a lot like Steve Roach's earlier stuff, ala Quiet Music, and Structures From Silence, but Jason's work isn't derivative, he does his own thing.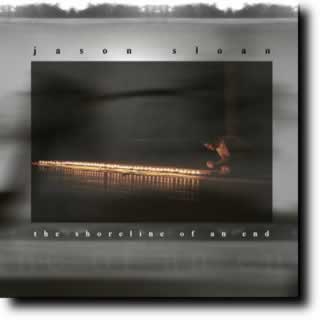 I should probably say a little about Jason's music. Jason's music is lush, ethereal, transcendental, and profoundly consonant. His music evolves slowly, and while he claims that his music is only a small part of his artistic output, his music blows most of his contemporaries out of the water. There's a lot of stuff being released right now with Hypnos Recordings, Green House Music, and some of the other labels since this music has seen a bit of a growth, but there's a lot of derivative stuff, and rarely anything where you can actually trace the music lineage that preceded it; you just can't do that with Jason's music. He's his own man, and it comes out in every endeavor that he undertakes.

I conducted an interview with him via email, rather I sent him some questions and asked him to answer them. When it comes to inspiration, Jason says some things that probably need more investigation, but rather than getting too specific, I've found that vagueness provides a bit of a mystique, something that Jason is the master of. Jason is generally inspired by "memory, non-dogmatic spirituality, Catholicism, nature," and as any true artist would say "necessity." This last point is something that is profoundly resonant, and a point that I would like to underline if you want to understand some of the inner workings of Jason's process.

Artistically, Jason has "too many influences to list," but he's listed a dozen or so, some of which I've heard of, and some of which I haven't, including "Christian Boltanski, Joseph Beuys, Hermann Nitsch, Pipilotti Rist, Carolee Schneemann, Ana Mendieta, Ann Hamilton, Brian Eno, David Tibet, Vidna Obmana, Genesis P-Orridge, Cosey Fanni-Tutti, and John Cage." It's interesting to note that we've had extensive conversations about the work of Christian Marcaly, but Jason doesn't list him here, nevertheless, I would say that, Marclay's process, if nothing else has some influence on his work.

When asked about his musical training, Jason's humble, and he makes no bones about the fact that he's not, in his words, a "tool bag." This is a funny way that he's come to refer to those that are really into technology, users of, and the like. "I have no formal musical training." He says, but "I can play things by ear and have done so since I was small. I would hear a song and play along with certain parts on the piano as a kid. I then started messing about on this old guitar and tried to write songs. I cannot read music and would not know a middle C if I heard one. I like to think of my musical work as sound collage. For me that's what it is, bits and pieces that work together to form a much larger work."

This last point really gives a little more insight into Jason's process. It's my belief that a good interview doesn't reveal too much about the artist and the process, but reveals just enough to generate some kind of emotional or artistic response, both to artists, and non-artists.

When pressed further about his musical work, Jason wastes no time emphasizing that music is not his primary art, "Music, to me, is just a small part of my work. I will always consider myself a visual artist first. I realize this sounds silly because creativity is creativity, but there is something about just getting into the work, getting dirty, feeling the substances... it's a very visceral and tactile experience... so the visual side of my work is a very large goal I want to keep exploring and creating a language in."

In the world of Ambient music and sound art, the process, history, and technology behind these things, are often, for whatever reason, more important than the work itself, so I asked Jason some questions about what got him started, his process, and what kinds of tools he used to create his work.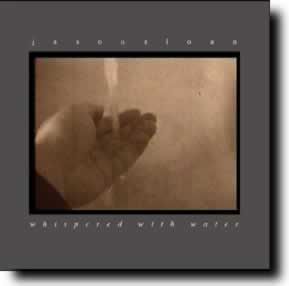 "Actually, it wasn't until about 10 or 11 years ago I had the urge to "record" or "make" music. As a kid I always had the rock-n-roll fantasy of living off a tour bus and the screaming fans, but who didn't. In the late 1980s I remember hearing the Hearts of Space program on the radio and loving what was being played. I couldn't find any of this music in my local store because the area I grew up in was Twisted Sister, mullett and tractor country. I was able to mail order an HOS compilation CD and my favorite track was Steve Roach's "Quiet Friend." From
that point on for whatever reason, I wanted to create my own sounds. But it wouldn't be until many years later I could gather up what I needed to do this."

Jason had this to say when I asked him what his process included, "Making sounds I like that fit the mood I want to create. It's different each time. I honestly Don't think I have ever approached recording something the same way twice. It is very unorthodox, and a sound guru would probably pee them self, but it works for me. Again, though, there really isn't a formula. I'm pretty low-tech. I really enjoy "rigging: things if necessary to achieve a desired outcome. It's all in the challenge. You don't need $10, 000 worth of equipment to make great music. My studio set up is pretty minimal.

Jason continued to elaborate on what it is that he uses, "the set-up and what gets run through what always changes but I have a Yamaha V50, Yamaha DX7, Roland JV1010, Digitech S400, Behringer 16 channel mixer, Yamaha MT400 Portastudio, Charvel electric guitar, e-bow, various mics and acoustic instruments. I sometimes record to the Portastudio then import into the computer or vice versa. I use a MAC with Pro-Tools if I opt to layer or record there (great app!!!) and some other programs."

At the time of this interview Jason has a lot of things in the works. He elaborated on this a little bit through our correspondence. "I'm trying to finish up a couple of new sound works for this upcoming compilation CD titled "Sink." Not sure if my work will be picked but I was invited by the label owner to submit a track or two. I'm also finishing up three new video pieces for a gallery in New York as well as a new performance work I would like to do sometime in November."

One of the last things that I wanted to know about Jason's work was what he had planned for the future, or whether or not there was some kind of work that he planned on doing, but hadn't done yet. He said "The other side of my sound work (none of which has seen the light of day) is very noise/experimental. I love the
"wall of sound," Throbbing Gristle, Whitehouse, Sonic Youth, Lee Ranaldo, Alan Lamb, K.K. Null etc. I just don't know what context to place that work into. For right now, it's something that I just do for myself. I may put it out there, I may not. I also am very interested in straight vocal work. Meredith Monk's work is simply amazing. I would also be interested in experimenting with the human voice at some point in the future."

One of the last things that we got into was whether, or not he had any performances, musically, or otherwise on the horizon. "I am planning to put together an evening of performance art with some other local (Baltimore) artists. In the past I have organized these events in various locations twice a year, one in the fall and one in the spring. But this past spring (2001), my energy was put into some other projects. I would like to pick this ball back up this fall. I have a few new works, which I would like to put out into the world."

When discussing this interview with Jason, I tried to highlight some of the more mysterious parts of his work, but Jason is a dynamic human being and black and white text can do no justice for such a gifted artist. If you want to learn more about Jason's work pick up his CDs, or check out one of his performances.

For more information please visit his Web site: http://www.jasonsloan.com/

In closing, I just want to say that it's my opinion that Jason Sloan is a young and gifted artist that will be creating art and defining culture on the periphery for many years to come…check him out while he's still in his salad days!!!