By Don Zulaica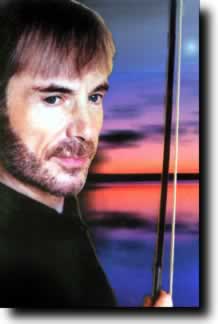 Can you imagine coming to America in the 1960s, wanting to take on the jazz icons of the day (Miles, Coltrane, Diz) with a violin? That's exactly what internationally renowned violinist Jean-Luc Ponty did.

Born in Avranches, France, in 1942, Ponty was raised by classical-musician parents. At 16, he enrolled to study classical music at the Conservatoire National Superieur de Musique de Paris and graduated with the school's highest award two years later. After playing with the symphony orchestra Concerts Lamoreaux for three years, his ear gravitated towards bebop, and by the '60s chose the violin as his primary instrument for jazz expression. While critics were ultimately won over by albums like his 1964 debut "Jazz Long Playing," there was resistance early on.

"There was a kind of prejudice and preconceived idea about the violin not fitting in to the jazz culture," Ponty explains. "In the '60s, the only electric instrument in jazz was a jazz guitar, but even that was regarded as a secondary instrument. I had such a strong concept in my mind that the violin could be a suitable jazz and rock instrument. By the time I came to America, I was welcomed."

Welcomed, indeed. The storied career continues with the August-released "Life Enigma" (JLP Productions Inc.), his first studio album in seven years. Recorded in his home studio, "Life Enigma" is a conscious return to the classic fusion stylings of Ponty's landmark Atlantic recordings, 1977's "Enigmatic Ocean" and 1978's "Cosmic Messenger." The album is also Ponty's first foray into full 24-bit digital technology. Using ProTools and a Macintosh, many tunes feature complete multi-tracked solo performances where Ponty plays all instruments. On others, he is backed by his familiar bandmates of the last decade, including bassist Guy Akwa Nsangue, keyboardist William Lecomte, drummer Thierry Arpino and percussionist Moustapha Cisse.

AMP's Don Zulaica spoke with Jean-Luc just before embarking on his world tour, which currently has him in the United States.

DZ: In the bio you mentioned that stylistically you were returning to familiar musical territory, and geographically you'd returned to France after a long while. Where have you been living?

JLP: My main home is in New York, my second base is in Paris, France. I have computers in both places, and carry hard disks with my music on it-- that's the beauty of it. You can go in different studios around the world, as long as they have the same format.

DZ: "Life Enigma" is your first studio album in seven years, since 1993's "No Absolute Time." Why the wait?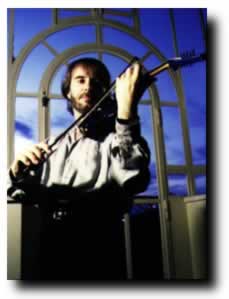 JLP: There are several reasons. One is, I was busy with other projects-- it's not like I was idle or retired. There was the acoustic trio project ["The Rite Of Strings," 1995] with Stanley Clarke and Al DiMeola, which took about two years. Then I toured with my band in Europe.

The thing is, I moved out of California in '96, right after the trio project. I lived in LA for more than 20 years, and that was quite a move because I had a professional studio there. So I couldn't just shut the door and go sell the house. I had to move all my gear, sell some of it, it was a major project. In fact, it took me about a year to get ready. I moved into two places-- some parts in New York, some parts in France. And in the meantime I was touring with my group, mostly in Europe. So I was in no hurry to record a new album.

Also, because I had done so many already, I wasn't sure I needed to produce one more. I wasn't sure for a while what I would do, and I was also gauging the situation of music in the world. Record companies and so forth. Also it happened that my contract with Atlantic was up in '96 or '97. This has happened a few times over my career, and when it does I take advantage of the situation not to rush into another contract. [I like] to take time so that some new ideas have time to mature in my mind.

DZ: And how long had you been working on the material?

JLP: I was collecting new ideas starting in '97-98. And then at the end of '99 I started really getting serious about it. I realized I had plenty of material, and enough good material to come up with a new album. Also, I wanted to come back to my own style of music.

DZ: I was going to say -- stylistically, you're returning to the Top 40 Atlantic albums, "Enigmatic Ocean" (1977) and "Cosmic Messenger" (1978). Were that in your mind in '98-99 when you were writing the material?

JLP: It was in my mind, but mostly for my playing and writing-- but still with a new sound and new energy. You know, I was not interested to go back exactly to what I was doing then, for several reasons. Because it was very successful and there is no way you can duplicate later the same thing. It's there. It's recorded. If it was not recorded or anywhere to be heard, then it would be worth recording for sure. But it is there, people have access to it. So by the end of '99 I started inquiring about equipment, and by early 2000 I started to put the new studio together. I got some new gear, all that new technology-- the 24-bit digital...

DZ: ProTools and a Macintosh?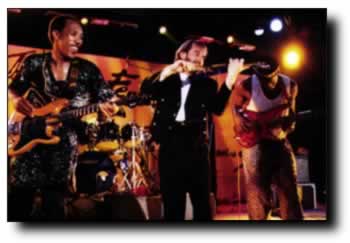 JLP: Exactly. So, it took a few months to put together. Because it's so complicated, there are so many choices of what to buy, how to put it all together. Once it was put together, let's say by mid-2000, I started to record. But bit by bit, because again I was touring and I had some other projects. When I would come back to my home studio I would complete things piece by piece.

I had a home studio before, but it wasn't the same. It was going into the studio with my band and going into the studio for overdubs-- I only used my home studio for the overdubs. But this time I was able to do a lot more. Mixing, editing, and with the computer technology, I was able to get a lot of insight into my music. Because I would leave it aside for a few weeks, come back and listen to it fresh and decide if it needed some change. Or I would be experimenting with sounds and effects. I had no deadline, that's the beauty of it. I had no recording contract, no record company on my back.

Even then, I didn't know how I would release it. My initial idea was to wait until it was finished, and then bring the finished product to record companies and see who would be interested. Which I did. I started with one major company, and they liked the album a lot and offered me a deal.

But at the same time, I was talking with an old friend of mine, Jim Lewis, who I met in the '70s. He was in the marketing department at Atlantic, and then became vice-president of marketing at Polygram in the '80s. I thought, since he is freelance now, there was the real possibility to handle this for me and go for independent distribution. It was a tough decision, because it's a lot more responsibility and financial risk on my end. But if it works then I will be a big winner, a double-winner because this way I have complete artistic control. So that's what happened.

DZ: And even though you had a more relaxed schedule, is it true most of your solo improvisations were first takes?

JLP: Yeah, it's true. It's very strange, I guess it can work both ways. Either it can be hard to find inspiration, because you are home and maybe it's too laid back. Or if it works, you feel great-- and that was the situation. I really felt great in my home studio, and able to concentrate and forget the technology and just loosen up and go. Because of that, for me, it was easier to lose myself completely in the music as opposed to being in a studio. Most of my albums have been done in different studios, and I would do an album a year or one every two years. So when you are in a studio to do a new album, it's always a new environment and it takes a little time for you to be at ease to play.

DZ: Track 6, "Pizzy Cat," what the heck is that? The Zeta? Sounds like Pat Metheny guitar.

JLP: That's the Zeta [electronic violin] MIDIed to a synthesizer, and I was plucking the violin as opposed to bowing the notes.

DZ: How did your relationship with Zeta, who make your signature electronic violins, come about?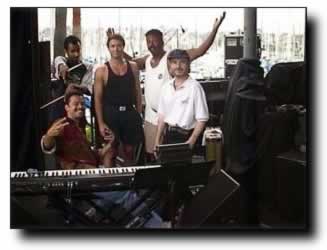 JLP: Immediately, almost, in the '80s they came up with a MIDI system for their electric violin. In '87 I did "The Gift Of Time," my first album for Columbia -- that's when they really got their MIDI system together. I believe that's the first album where I used the MIDI capabilities. In fact, the opening number ["Two Thousand One Years Ago"] is a whole solo in itself like that with different sounds.

This time, in my studio, I was just strumming my violin and trying some different sounds with the synthesizer, with a Synclavier. And then I stumbled on that sound which I have in the Synclavier which I made up -- and I thought it was cool, because I was able to sustain chords. It was just to play around for a while, and then one day I said, "I should put that on the album."

DZ: You said you used to mind being classified as a jazz-rock musician. What exactly is "world jazz fusion?"

JLP: [laughs] It's a bit of a joke. Jazz-rock in the '70s was the right label-- what can I say, the world needs labels. So, fine. Why not jazz-rock. Basically we were jazz musicians using electric instruments, rock instrumentation and some rock beats as well. So it was a blend of both. If you really analyze the music, there was more to it than just that. There was also a Latin influence, there was also European classical music, and more.

And the thing is, now it has expanded, for me in particular, into the West-African experience, with new rhythms added to my musical language. I did this African project in the early '90s, "Tchokola," and I saw that in one of the reviews -"world jazz fusion." And I said, "Ah, that's a new one!" [laughs] Basically, I'm not crazy about labels. I prefer a label that is as wide as possible, but it's not that important.

DZ: You studied classical music at the Conservatoire in Paris and played with the symphony orchestra Concerts Lamoreaux-- when did you first hear Miles and Coltrane? Were they the big ones for you?

JLP: Yeah, they were not the only ones, but they were the major ones that everybody knows. I was really listening to everything we could buy, in terms of albums, from the bebop and hard bop era. We would listen to that, as young French musicians. So I started with trumpet players like Clifford Brown, Chet Baker. And others, anything, Wes Montgomery, Cannonball Adderly. But it's true, Miles Davis, not just for him-- he was already a great musical example --but also the musicians he had around him. Herbie Hancock and McCoy Tyner, all these albums were things we were listening to every day, and would change our lives.

DZ: Were your parents into jazz at all?

JLP: Not at all. Absolutely not. In fact, the only jazz my father was aware of was the early Dixieland jazz-- my parents were classical musicians. When I discovered jazz, I was not living at home anymore. My parents were in a small town in Normandy, and I discovered jazz when I was studying classical violin in Paris. So they did not discover my passion for jazz until later. They did not understand that music at all. And they thought it was crazy that I had done all these classical studies, and I was hired by a classical symphony orchestra, and one day they heard I left to play in jazz clubs and earn peanuts, as well. I could not even afford my rent. They weren't very happy.

In those days, the only solid technical background you could get was in classical music. Still though, when you deal with old instruments like violin and piano, there have been great minds and very intelligent players who have come up with studies and ways to really handle these instruments very well, to the highest peaks. So still to this day, I practice some classical studies by teachers from the 19th century or even before. And it's great to get your chops together, there is no doubt. It's a great combination of fingerings and so forth. But when I get to improvise with my jazz phrasing, my bowing technique is so different, it's like if I didn't practice at all.

DZ: What did jazz give you that classical music wasn't?

JLP: I must say that I was not one to have a total passion for the violin as an instrument.

DZ: What were you studying early on, piano?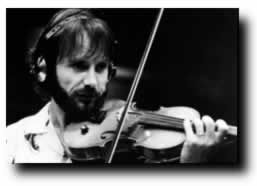 JLP: Yes, piano together with violin and clarinet. I was in love with music, not necessarily with one instrument in particular. Because there were guys in the Conservatory who were really totally into the violin, period. Ready to dig as far as they could. I was more interested by music in general. In fact, I was intending to go on and study conducting, orchestra and composition. I was taking harmony classes and was going to go into composing-- that really was my goal. But before I got to that, I discovered jazz. And jazz gave me that feeling of being a lot more involved, because you create your own phrases, somehow you are an instant composer. And also, the energy, the rhythm feel. I still love classical music, there are still composers who I absolutely love and find extremely profound and feel impressed with their combination of lines and counterpoint an chord changes. But for me personally, jazz...it was perfect for my personality.


For more information on Jean Luc-Ponty: http://www.ponty.com