More Than A Flecktone
Jeff Coffin wants you to remember that he's just a musician
by Tal Pinchevsky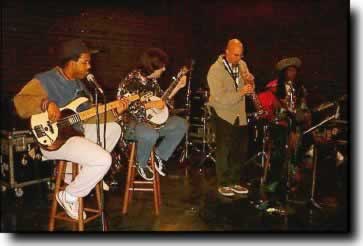 "I'm not really a jazz musician," admits saxophonist Jeff Coffin, "I'm a musician who just happens to really love jazz."
Despite this statement, however, Coffin has done nothing in his musical career that bears pigeonholing. Best known for his work with the Grammy Award- winning group Bela Fleck and the Flecktones, made up of Coffin, banjo player Bela Fleck, bassist Victor Wooten, and drummer Future Man, Coffin also has a solo album of jazz standards, released on Compass records, entitled Commonality.
Coffin has also managed to play with the likes of Dave Matthews Band, Bruce Springsteen, Don Henley, Glenn Frey, Van Morrison, Bruce Hornsby, Branford Marsalis, Phish, Sheryl Crow, and a myriad of other diverse artists. In doing so, Coffin has not just established himself within particular music circles, but also within the vibrant Nashville music scene, in which he has participated with such local acts as Max Carl and Big Dance, Orkestra Mondo Pingus, and the Sizzle Donkeys. "It puts me into a different experience every time," says Coffin of playing with so many different musicians. "I think that one of the major things is that, with all the different styles of music, there come different approaches to music. So I think it allows me to try a lot of different styles of music and to try to play what I think will fit within a particular situation but still retain who I am."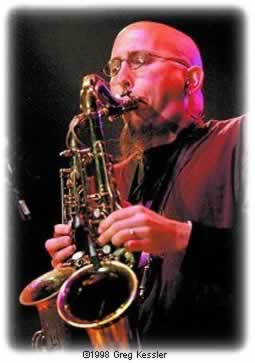 It is in these collaborations, Coffin notes, that the music is most important. "Everyone was just trying to make music," says Coffin. "There was no glam thing going on where they were saying 'look at me, I'm a star.'" Right now, though, Coffin's primary musical focus is his touring with Bela Fleck and the Flecktones. Coffin says "that has been the primary focus at this point. Just working with the guys. Getting everything together and writing with Bela." Currently on tour, the band had been working in the studio on the upcoming Flecktones' release.
The new album will be the band's first new material since 1998's Left of Cool, although last year did see the release of a greatest hits compilation, entitled Greatest Hits of the 20th Century. Coffin's response to this intense workload appears almost humbling. Despite the intense schedule, Coffin flatly remarks that "first and foremost it's fun, it's really a blast." "It's really challenging also because you have to be on top of your game when you are in that situation," he continues. "There's a lot of room for growth and development and trying things that are open to what everyone else brings to the group. Everyone wants the challenge of trying to play a particular tune that somebody brings in and making it work."
Regarding the upcoming album, Coffin acknowledges the difficulty in translating the open-ended jam styling of a group like the Flecktones to the studio. "I don't really think you can do that without having a live record," says Coffin. He continues "there's a whole different energy with the live show than with a studio recording, but one of the things that we have been able to achieve with this record is that there is a great live feel to it. I've been in the group now almost three years, so there's a great familiarity between all the parts and I think its just gone to a really beautiful place."
If Jeff Coffin sounds somewhat melodramatic regarding the topic of music, it most likely has to do with a lifetime of performance that began when he was a fifth-grader in Maine. "I always knew from that point," he says, "that it made me feel something that I had never felt before. Something just resonated inside of me that I knew that this was what I was supposed to be doing."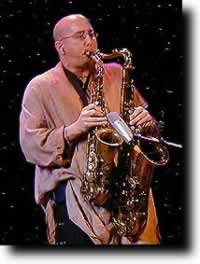 Having found a truly comfortable place in his life as a musician, Jeff Coffin seems to have established a musical plan for the next several years. Sounding almost nostalgic, Coffin says "I just want to keep doing what I'm doing and keep getting better at it. Just keep pushing my own envelope."
On tour with the Flecktones since February, Jeff Coffin has established himself as an accomplished purveyor of sound and rhythm. Playing with the Flecktones has created a platform for Coffin in which he can further test himself musically.
Content not to be considered a jazz musician, Jeff Coffin has certainly established himself as a musician with enough range to be called whatever he wants.



Interview by by Tal Pinchevsky
---
---
This site is copyrighted ®© AMP/Alternate Music Press, 1997-2017. All Rights Reserved.
Unauthorized duplication and distribution of copyrighted material violates Federal Law.