Jazz Through the Ages
Jimmy Ponder: "Guitarist Extraordinaire"
By Chad Simon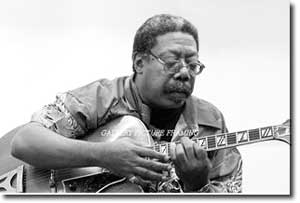 Life has been full of successes and hard times for Jimmy Ponder. He performed in various New York City clubs throughout the 1960s with one of the Hammond B3 pioneers Charles Earland, then later returned to his hometown of Pittsburgh, Pennsylvania, to rebuild his career after the Martin Luther King riots. Ponder responded to personal setbacks by pouring his soul into his guitar and achieving the kind of stardom that was oftentimes overshadowed by dollar signs and materialism.

"Fame isn't always fortune; they don't always walk hand in hand," says the internationally acclaimed jazz guitarist. "Fifteen to 20 years ago, my income was more than it is now, but I'm happier now. This is a business where anything can happen. The only limits are those placed upon yourself."

The Early Years

James Willis Ponder was born on May 10, 1946 in Pittsburgh. His first musical experience was in junior high when he started singing in a rhythm and blues group. His brother had always had a guitar around the house and left it behind when he joined the Marines in 1960. "It had a fascinating sound. I always had the desire of wanting to learn how to play the guitar," admits Ponder.
His early influence was blues legend Bo Diddley. Ponder was first introduced to jazz by a Rochester radio station, WHAM, and by the time he turned 16 his heart was set on playing jazz guitar. "I was playing as often as possible," says Ponder. "I was thrown out of the R&B group because I was headed in the direction of jazz. My style didn't fit the music. I was hearing different things and playing different things."

Ponder kicked off his jazz career by hooking up with Sam Pearson and his avante garde group called Sam P. and the Players. Ponder was also sitting in with more prominent players, including the Bobby Jones Trio and the Jimmy McGriff Trio. "The group leader knew that I liked jazz. He heard me play the guitar and was captivated," says Ponder of McGriff.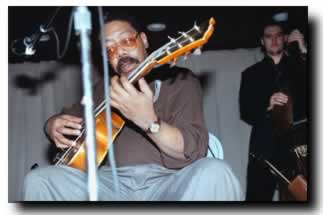 Ponder first met Charles Earland in 1963 at The Hurricane, a club in downtown Pittsburgh. Two years later, it was Earland who would take Ponder under his wing and lead him to Philadelphia and on to New York and New Jersey, east coast jazz meccas during that time. Ponder became reacquainted with Earland at the Crawford Grill, one of Pittsburgh's few hotbeds for jazz during the '60s, located in the Hill District, a neighborhood largely populated by African Americans. However, the club drew white crowds from the city's major universities, including the University of Pittsburgh, Carnegie Mellon and Duquense. According to Ponder, when white people came into the club, blacks had to give up their seat.

Despite the problem of racial inequality during the '60s, the Crawford Grill brought outstanding players into Pittsburgh, including Pat Martino, George Benson and Grant Green. "I was under age at the time. The only time I could get in was when I knew somebody," says Ponder. "The laws were not enforced dealing with minors. I sat in with as many bands as possible, including Jimmy McGriff and Kenny Burrell."

"I sat in with him [Earland] when I was a senior in high school," says Ponder. "My mother said that after I graduated I could go wherever I wanted to go. Charles kept his word and came back for me after I graduated."

On the Road

Earland took Ponder on the road with him to Atlanta, Harlem, Newark, Atlantic City and New Haven, Connecticut, to play the Chitlin Circuit, located in the black ghettos of each city. "It was the era of the Hammond B3," says Ponder. "We formed trios with an organ, guitar and drums and sometimes a tenor sax or vocals."

Traveling to other cities and playing different venues enabled Ponder to meet highly skilled musicians from around the country. "Traveling affected me in a positive way. It was a challenge to play for people who have never heard you. What you hear on an album is not the same as what you hear live," says Ponder.

When Ponder wasn't with Earland, he was playing with other groups, including another Hammond B3 pioneer, Jimmy Smith. "In the late 60s and early 70s, I was playing six or seven nights a week," says Ponder. "I would play five hours a night. On a Sunday matinee I would play for four hours, take a dinner break and play five more hours."

The Manhattan Scene

According to Ponder, the Manhattan audiences were always receptive of his performances. It was the only place he had ever worked where club managers would tell members of the audience to shut up or leave when someone was performing. "One time when I was playing at the Village Vanguard, Lou Donaldson, the owner, went up to a family and told them to shut up," recalls Ponder.

"There was always a full house in lower Manhattan because of the volume of walk-in crowds. In Pittsburgh, the clubs were so far apart that you had to have transportation to get to them, but in Manhattan, the clubs were so concentrated that you could walk," he explains.

Ponder continued to perform solo at The Other End, a club in Manhattan. He also replaced guitarist Jim Hall in Ron Carter's duo, and worked with several other bass players, including Reggie Workman, Paul West, Lyle Atkins and Scott Lee. In addition, Ponder began playing with another B3 player, Lonnie Smith, "organist extraordinaire," who had previously worked with George Benson.
"Eighty percent of the players I worked with were road warriors," says Ponder. "I performed with whoever needed a guitar player. I lived in Harlem and was a pick-up player. I did whatever I had to do for survival."

Coming Home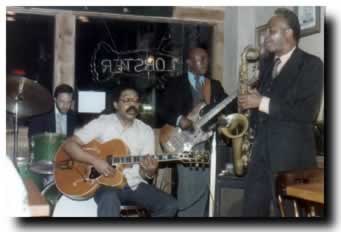 Ponder's successes in New York and New Jersey playing in front of hundreds of appreciative fans were followed by despair after the assassination of Dr. Martin Luther King and the decline of the civil rights movement. Ponder was living in East Orange, New Jersey, at the time, and after the riots were extinguished, the working situation in New York looked bleak. "Black clubs began to vanish, there was a lack of work and my mother wasn't in the best of health," says Ponder, all contributing factors that led to his decision to return to Pittsburgh.

After the Crawford Grill's hey day during the '60s, the jazz scene in Pittsburgh began to dwindle. Opportunities for jazz musicians to play were few. The music wasn't as popular as it had been in the past and the support just wasn't there. Clubs were more in tune with the rise of rock n' roll, reggae and R&B, supporting music that drew crowds. "Clubs didn't have just jazz anymore; the support was fragmented. It was all about survival," says Ponder. According to Ponder, the annual Mellon Jazz and Three Rivers Jazz Festivals were getting worse every year because of budget problems.

Due to the slow decline of jazz, Ponder was forced to rebuild his career. "People thought, 'Why are you back here after going national? What are you doing back here?' People don't know what it takes to play music," says Ponder. "Recognition to me is stardom. I have autographed albums in Tokyo, Brussels, Belgium, Spain and Portugal."

Quick to Rebound

Even after coming home, Ponder still traveled as much as possible. In the early '80s he landed gigs in Harlem and Plainfield, New Jersey, with drummer Greg Vandy. Ponder caught a huge break when he returned to New York in 1984 to play solo out of necessity for seven weeks at the Village Gate in lower Manhattan. "I gave the owner of the club one of my recordings and told him I had a quartet, but he didn't want a quartet. He didn't want a bass player, or a B3, he just wanted me," says Ponder. "I performed for an hour as the opening act. It was a great deal of pressure, but it was worth it because I had to dig deep. The show will go slow if you're not prepared; it'll either make you or break you."

He was scheduled to go to South Africa at the end of October to play for 10 days. However, he canceled the gig due to the recent terrorist attacks. He travels extensively to Madrid where he fronts his own trio. "I met Miguel Chastang, a bass player, at a Harlem night club called Billy's. Before he moved back home, he promised to bring me to Madrid, and he kept his word." One of the highlights of his career was when he recorded with the philharmonic orchestra in 1978 in Hanover, West Germany, with trumpet player Jimmy Owens. Just two years ago, a guitarist from Israel came specifically to the United States to study for 15 weeks under Ponder while attending the New England Conservatory of Music. "He wouldn't study with any other guitar player," quips Ponder.

Regardless of the lack of support jazz music has endured in recent years, Ponder has bounced back, even without the Manhattan image, releasing several successful albums, including his most recent, Thumbs Up! from Highnote Records, released last year. He plays regularly both solo and with his trio, Mike Taylor (bass) and George Heid (drums), in local Pittsburgh clubs, including James Street Tavern and Church Brew Works. "Pittsburgh is a great place to live. There aren't as many opportunities for jazz, but the people are great," he says.

The Wes Factor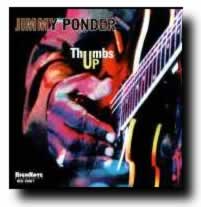 As with most jazz guitarists, Wes Montgomerey had a tremendous impact on Ponder and the development of his style. "Wes played with his thumb. The sound was personal, as opposed to using a guitar pick." Ponder was so taken by the concept and Montgomerey's dynamic sound that he purchased some of his albums. "I saw him in Newark in 1980. On the back of one of his albums, Jim Hall said that you couldn't see his [Montgomerey's] thumb when he started playing, and I didn't believe it," laughs Ponder. I took my girlfriend to the show and we sat eight feet in front of him and I couldn't believe my eyes. He used a pick and then his thumb before he started alternate picking. Wes played all downstrokes, which was even more phenomenal."
Wes must have had a lot of influence on developing Ponder's sound into the crisp, hollow and articulate expression you hear cascading from his 1977 Super 400 Gibson today. Ponder describes his own style as "fiery, interjecting spirit into my playing. I use different shadings and utilize dynamics. I don't reach people through volume. That is the worst way to capture an audience."

Thumbs Up!

Ponder's latest CD features Cecil Brooks III on drums and Dave Pellow on bass. Ponder hires musicians that he has previously worked with based on how well they interpret his ideas and how well they work together. He plays mostly standards, including 'Love For Sale' by treating them "my own way."

"My goal for Thumbs Up! was to play as close to a live performance as possible instead of a medicinal, squeaky-clean, rehearsed performance. The recording studio is not the most comfortable place for me," he admits.

One to Grow On

Throughout his career, Ponder says he has grown as a player by making sense of what and how to play by personally pouring himself into the music he plays, giving way to his style and individuality. "Jazz is the most expressive music. R&B is fine to a point but it's not enough of a challenge. To me, jazz is more personal; it covers a wider spectrum," he says. "I am able to transfer my soul into my guitar through years of playing and experience. My music is an expression of myself and how I feel at a particular time."