BIOGRAPHY & INTRODUCTION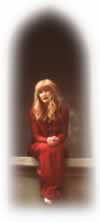 Self-managed, self-produced and the head of her own Quinlan Road label, singer and composer Loreena McKennitt has twice been honored with a Juno, the Canadian music industry's annual award, and was given the Billboard International Achievement Award in 1997.
Born and raised in Morden, Manitoba, she moved to Stratford, Ontario, home of Canada's renowned Shakespeare Festival, in the 1980s. As an actor, composer, and musician, she was featured in a number of Festival productions including The Tempest (1982) and The Two Gentlemen of Verona (1984). In 1985, with the release of Elemental on her own label, she began her career as a recording artist. In more cosmopolitan Winnipeg, she briefly studied to be a veterinarian, before moving on to finally settle in Stratford, Ontario, where her composing and performing skills were soon appreciated in the lively scene around the city's internationally renowned Shakespearean Festival.
She set up her own record company, Quinlan Road, in 1985, and recorded Elemental, a nine-song cassette. She ran off copies and began selling them from her car while meeting the public on the most immediate level, as a busker.
As McKennitt's mailing list grew, word of mouth in cafes and bookshops built her a significant audience. Her growing audience empathized while McKennitt explored the traditional canon, always seeking the reverberation that would make an ancient voice harmonize with her own. She's particularly proud of tracking down "Bonny Portmore", included on "The Visit". An obscure ballad mourning the loss of ancient British stands of oak, once worshipped by pre-Christian tribes, it has a contemporary relevance to today's fight to save old-growth forests.
McKennitt followed "Elemental" by cutting a seasonal perennial in the Christmas carols of "To Drive The Cold Winter Away" (1987), and made her first steps towards cross-cultural fertilization in the subsequent "Parallel Dreams" (1989).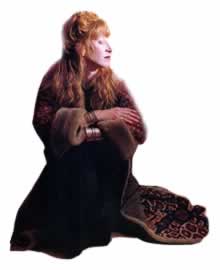 A pivotal moment for McKennitt's evolution occurred in 1991 in Venice, Italy, at the largest ever exhibition and collection of international Celtic artifacts. "Until I went to that exhibition. I thought that Celts were people who came from Ireland, Scotland, Wales, and Brittany," recalls McKennitt. Seeing the unimagined riches and variety in the centuries of Celtic art gathered from as far afield as Hungary, Ukraine, Spain, and Asia Minor, she recalls, "I felt exhilarated. It was like thinking that all there is to your family are your parents, brothers and sisters, and then you realize there's a whole stretch of history that is an extension of who you are." That epiphany transformed McKennitt's music.
With her one artist label Quinlan Road expanding into its second office in London, England, much of her time is now spent commuting between there and the Stratford base, attending to the myriad of things which come with running an international career in the music business. She has composed music for, or had songs featured in, a variety of films ranging from the National Film Board of Canada's Women and Spirituality series to Jade, Highlander III, and Jean-Claude Lauzon's 'Leolo'. McKennitt's songs have also been featured in television series such as Northern Exposure, Due South, Strange Luck, ROAR, and EZ Streets. "Dante's Prayer", from The Book Of Secrets, was recently used by world figure skating champion Michelle Kwan in competition.
INTERVIEW with Loreena McKennitt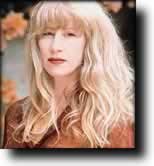 M.S. Where did you grow up, Loreena?
L.MK. I grew up on a farm in Morden, Manitoba, a small prairie community about 80 miles from Winnipeg. It was an interesting community to grow up in. It was comprised of a mixture of Mennonites, Anglo Saxons, a mix of Icelandic people and Ukrainians. The lifestyle was quiet and simple. My father was a livestock dealer and my mother was a nurse. My mother is retired now, and my father has passed away. I think growing up in that rural environment, on the farm, inspired a deep-rooted reverence for the land and the countryside and I sometimes yearn to keep that connection. I currently live in a wonderful old stone farmhouse built around 1830, which is about 10 miles away from Stratford, a little town in southern Ontario.
M.S. Why do you think you chose a career in music?
L.MK. Well, I studied classical voice for five years and classical piano for about ten years. I wasn't all that enamored with the classical repertoire, but I found that it did ingrain in me a strong sense of dynamics, technique, and musical theory that has contributed to my current forms of musical expression.
M.S. How about your travels? Do they influence your music?
L.McK. As I travel more, I find that I'm constantly redefining my sense of home. I'm referring of the term "home", not just as a physical house. Home, for me, is definitely a community of family and friends, kindred spirits. My house is a place that allows me to engage in the natural world in ways that I like and feel comfortable with in many ways. There is a wonderful old Chinese proverb that I love, "A good traveler has no fixed plans and is not intent on arriving". I think about my personal approach to musical projects much like a travel writer might approach the preparation for a book. You latch on to a certain theme or historical event and follow that into the unknown, while, at the same time, expanding on those themes.
M.S. Why do you think there is a growing interest in ancient Celtic culture?
L.MK. For me, it's always been difficult to articulate exactly what it is within Irish/Scots/Welsh music, what we identify as Celtic music, that attracts people. It seems to operate in a very instinctive primal way, and for a lot of people, including myself, I think that there is something in the older structure of the music, the rhythmic patterns which is very inviting.
I first became exposed to Celtic music at a folk club in Winnipeg in the late 70's. Several members of the club hailed from Ireland and England, and through them I learned a lot of the traditional repertoire. Also, the way the music was performed impressed me. The club was a very casual place, everybody took a turn playing songs, and people would sit in and play along. When I visited Ireland, I saw this very relaxed extension of people's self-expression. The music wasn't just relegated to a more formal concert atmosphere, which psychologically changes the whole experience.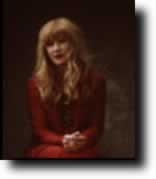 Until the early nineties, I was under the impression that the Celts were this mad collection of anarchists from Ireland, Scotland and Wales. When I saw an exhibition in Venice, I discovered they were a vast collection of tribes originating from Middle and Eastern Europe as far back as 50O BC, and that over the centuries they migrated and integrated with people all over the world. So I've used this cultural history as a creative muse. With "'The Book Of Secrets" in particular, I was interested in beginning with their earlier and more Eastern history. I did a great deal of research in Italy, and in essence let the process of discovery evolve from that point.
M.S. Have you read any books on the history of the Celts? How do you research the motivations behind your music?
L.MK. When I'm researching, the procedure takes many forms. I read a diversified collection of books; travel writing, fictional stories set in a period and locale of my interest, and I listen to a variety of music and study the instruments. I try to visit a place because I don't think there's any better way of absorbing and taking in all that essential information than breathing in the aroma of the streets, and seeing the light in the sky. There is no book or radio documentary that can compare to that whole experience.
I discovered a wonderful book called "How The Irish Saved Civilization" written by Thomas Cahill. I knew there had been a lot of controversy about this book. But I think there is some aspect of its thesis that is sound historically. His thesis was that as the Roman Empire was disintegrating, numerous Irish monks were copying out ancient Greek and Latin classical and religious text, and were re-introducing this text to the continent. Were it not for their efforts, much of this material would have been lost to us forever. Another book I found to be of great value is William Dalrymple's "From the Holy Mountain". He touched upon the connection between the Irish illuminated manuscripts and the sacred art coming from the East. This huge migration of people, who traveled across Europe and North Africa, had lost so many threads of those historical connections. He showed how the historical roots of these illuminated manuscripts, that we now so strongly associate with Ireland or Scotland, like The Book of Durrow and The Book of Kells, actually demonstrate a shared Indo-Euripean origin.
M.S. I suppose you are often asked about your attraction for setting the classic writer's lyrics or poetry to music
L.MK. Yes, that's true. For example in "The Visit", and "The Mask And Mirror", I incorporated some of Shakespeare's writings. I also added some phrases by W B Yeats and St John of the Cross. I suppose the reason I've done this is not only to give a different perspective to a recording, but also a certain kind of significance.
M.S. With the great variety of music that has inspired your creations, how would you define your musical 'stamp'?
L.MK. Frequently, I call it eclectic Celtic, but in many respects it is more an expression of a hybrid form of world music. A lot of people associate world music with primarily African music, and obviously, it's not African music. There were twenty-eight musicians involved in "The Book of Secrets". In some instances there was a tin whistle playing along with a viola da gamba, or the St Petersburg Choir singing an orthodox Eastern hymn. The musicians and myself come from such a broad spectrum of musical styles there are bound to be these influences woven into the framework of my music. For example, I come from a classical and folk background. Brian Hughes, my guitarist, comes from a rock and jazz background, Rick Lazar, our percussionist, and Donald Quan come from a Latin and world music background, Hugh Marsh, my violinist, comes from a very experimental and imaginative musical background. At the essence of of my music, there is a Celtic or an Irish resonance. But it is embroidered with Eastern and Middle Eastern influences. Since world music has impacted mainstream music so strongly, it is not unusual to find my albums nestled in the pop music section of record stores.
M.S. Tell us about your own philosophy and how that shapes your music and your lifestyle?
L.McK. Creative people tend to have a great thirst for stimulation, and there are many ways to satisfy that need. A great deal of my inspiration comes from travelling, and it's fuelled from my inquisitiveness. I consider myself extremely fortunate to be doing what I'm doing. I'm able to unite my passions and talents and interests, and make a living at the same time. I think there is a lot to be learned from the past and in finding out how, in these highly technological times, the history of our ancestors remains relevant.
One of the most wonderful and engaging things I've learned is that we are the culmination and extension of each other's histories and there is more that binds us together than separates us, and in discovering this, perhaps our needs are timeless and universal.
I have a very deep interest in religion and spirituality. I like the Sufi perspective, which suggests that it is better to participate in the world than to become detached from the world. Certainly, I think that isolated situations are good for different stages of one's own development. But the challenges that we encounter in life can offer opportunities that help us to grow. I find it difficult to comprehend what the mind was about five or six centuries ago, or any mind that is in the deepest of isolated circumstances.
A lot of the ancient monks were usually physically alone with their books and prayers; they had very little companionship. They did write their own prose, which can offer us a deeper insight into their experience and intentions. In observing this segment of religious history, and the many questions that flow through the spiritually dedicated mind, one ponders what is the correlation between isolation and religious or spiritual experience. In a broader sense, we see our continuing lack of knowledge of the mechanics of the human soul.
DISCOGRAPHY

ELEMENTAL (1985) Quinlan Road
TO DRIVE THE COLD WINTER AWAY (1987) Quinlan Road
PARALLEL DREAMS (1989) Quinlan Road
THE VISIT (1992) Quinlan Road/Warner Bros. Records
THE MASK AND MIRROR (1994) Quinlan Road/Warner Bros
A WINTER GARDEN: FIVE SONGS FOR THE SEASON (1995) Quinlan Road/Warner Bros. Records
THE BOOK OF SECRETS (1997) Quinlan Road/Warner Bros. Records
LIVE IN PARIS AND TORONTO (double album 1999) Quinlan Road/Warner Bros
AN ANCIENT MUSE (2006) Quinlan Road/Warner Bros
COMPILATIONS
THE CHIEFTAINS' "Tears Of Stone" (1999)
VIDEOS
NO JOURNEY'S END - 30 MIN. PUBLIC TELEVISION PROGRAM (1996)