An interview with Mickey Hart
by Tal Pinchevsky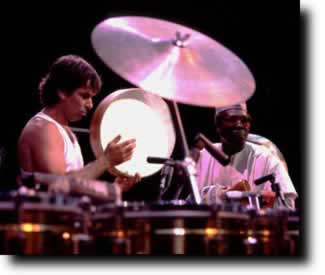 Mickey Hart, best known as a purveyor of spirituality through a musical vehicle known as the Grateful Dead, seems far more content to discuss his life 'in the moment'. Watch for Mickey's latest recording project, KODO, which will be released in October, 2001. The project will feature guest artists Giovanni Hidalgo, Airto Moreira, Michael Hinton and Zakir Hussain.Mickey Hart will soon bring his new ensemble, theBembé Orisha on the road for an 18 date fall tour.
Having spent the majority of his career divided between music and activism, Hart also appeared before the US Senate Committee on Aging in August of 1991, speaking about the therapeutic elements of drumming and rhythm on the aged. Hart also currently found himself working with a group of artists and ecologists to save the old growth redwoods in Northern California.
Hart seems fairly focussed when discussing these numerous projects. This focus, though, appears based on the premise that all of his projects seem to revolve almost entirely around his love of music as an aesthetic and therapeutic medium. Hart almost immediately begins asking rhetorical questions about music and vibrations. "What is this thing about vibration and using sound vibrations?; which are invisible really" he asks. Before I can even attempt to answer these questions, he continues "your dealing with invisible energy and it turns this spirit into some kind of a form that you can share with someone else."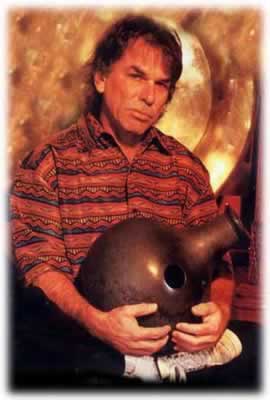 The album/book title of Spirit into Sound, Hart's previous release, is directly related to his musical ethos. "It's turning a spirit or a feeling into something tangible," explains Mickey, the self-proclaimed sound-shaper and/or architect of sound. It takes very little time to listen to Mickey Hart and realize that his entire life has been dedicated to understanding the aspects of music and rhythm that mankind has not really payed much attention to. "Why is music used for religious rituals? Why do we feel so ecstatic after a great dance or hearing a wonderful song that touches the soul? What is this all about?" asks Hart. He continues, saying "it's the same thing that led me to write the other books, (Drumming at the Edge of Magic and Planet Drum). It was a quest to find some answers and explain the unexplainable."
By this point, the definition of music has gone beyond formulaic verse-chorus-verse songwriting and transcends into simple aesthetic listening pleasures.
Hart explains "music is certainly a language that strives to explain the unexplainable. In music you can talk about things that you can't do in the English language. It speaks to the soul and we are finding out now that the soul perhaps resides in the heart or around the heart. Science is telling us now that the heart really does have a brain" explains Hart. "It's more than an organ that just pumps blood. It also pumps emotional content. So music connects us to the heart. That's why music really connects us to our subconscious and our dream-state and just ourselves as a vibratory animal." Hart concludes this argument pondering one of his more interesting comments over the course of the interview, "there is no P.O. Box to the soul. The body is all about vibrations. It's pulsing, it's beating, and, when the vibrations stop, your dead."
Another project of Hart's has been his work in the digital preservation of music through his recent work at the Library of Congress. Although it might be hard to explain the depth of this job, Mickey attempts to sum it up, saying "I'm there preserving the great collections and giving it back to them. I'm going to work at the American Folklife Center to discover what's inside the bowels of the beast. I mean we're talking about a million and a half hours of indigenous music from around the world sitting there decomposing. I'll go there to lobby for funds and to pass the Preservation Act."
Most importantly, it appears that, aside from being the only person willing to make an effort on the part of this music, Mickey Hart feels fulfilled by this work. Not to say that Mickey loves and embraces any and all music. Hart is quick to clarify, especially with the state of the (pop) music industry today. "I just love music that is not product," explains Hart. "I mean the radio is just very limited as far as what it does to my soul. The music I'm working with is a positive force as opposed to fast food. I don't mind McDonald's every once in a while, but I can't indulge in it very often, if at all."
While discussing his opinion of today's popular music (Hart claims to be a fan of Santana's latest as well as the Chemical Brothers), the conversation naturally turns towards Hart's performance in the original Woodstock Music and Arts Fair with the Grateful Dead as well as last year's horrific incarnation of the festival. Hart's response to this comparison is somewhat surprising. "A ritual is what we're talking about. What we were trying in both of them was under the heading 'Ritual and Rapture.' One achieved last years festival and the original Woodstock achieved this sense from time to time. I saw the Chemical Brothers' set and that certainly took the audience away." When Mickey recalls his own performances, things get somewhat skewed.
Referring to Woodstock '99, Hart explains, "I thought our performance was one of the better gigs we've ever played. I left before they burned it down. But there were a lot of great performances there. Some of them I liked and others I just didn't get. But the first one wasn't so great either. Personally, I had a terrible time at the first Woodstock. I played the worst set of my life, and during the second festival I played one of the best shows of my life. So it was a personal best for me, even though we lost as a group. Woodstock '99, as a media event, failed."
By now we've ventured into Grateful Dead reminiscing, which makes Hart somewhat evasive in his speech. Despite this sudden evasiveness, Hart, when asked about being synonymous with a legendary group such as the Dead, admits "I'm very proud of it. It allowed me to be here." He continues, saying "people use their celebrity in different ways.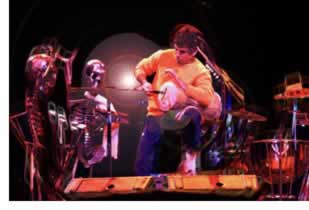 When I talk about indigenous music and preserving the world's great sonic treasures, people listen. They think that it's important because I'm one of the Grateful Dead. The Grateful Dead allowed that and encouraged it. Even when the Grateful Dead were touring, I would be doing Planet Drum, or working at the Smithsonian and the Library of Congress. I can go in front of the Senate and walk in the halls of Congress and lobby for money for preservation of music. Scholars can't do that."
Even after over half an hour of discussion, Mickey Hart still addresses his numerous musical and philanthropic projects with the same consistent passion. Not content to simply enjoy past successes in a musical era that has enjoyed far too many musical reunions (including another 'Who' farewell tour), Hart still brings the same ardent passion to his musical performance. Regarding his future, Hart seems to simply enjoy riding his own wave. "I really don't have a master plan. I never really did" he explains. "I don't really plan that far ahead."
This passion appears prevalent in everything that Mickey Hart has done not just with music, but, most importantly, for music.
END