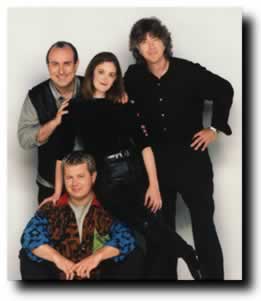 From left to Right:

Joseph Macerollo - accordion
Cynthia Steljes - oboe, English horn
George Meanwell - cello, guitar, mandolin
and below:
Peter De Sotto - tenor, violin, mandolin
During the end of May 2001, in the midst of a busy international spring-summer tour, two members of Quartetto Gelato, Peter De Sotto and George Meanwell took a break to talk to Maireid Sullivan about their music, sharing insights on the life of this brilliant quartet. With their breathtaking virtuosity, irrepressible energy and charming wit, Quartetto Gelato has won the hearts of audiences around the world, across their native Canada and the U.S. since their remarkable 1994 debut season.

Their 2000-2001 season includes recitals and workshops throughout the US and Canada, as well as in Korea, Hong Kong, Kuala Lumpur, Taiwan, China and Macao. The following interviews took place while the group was touring upstate New York, just before leaving for Juneau, Alaska.
AMP's exclusive interviews with the group's prima bello, Peter De Sotto, who also plays mandolin and violin in the quartet, and with composer George Meanwell, who plays cello, guitar and mandolin, give us a rare insight into the inner workings of this spectacular ensemble.

Peter De Sotto interview

George Meanwell interview

Official Biography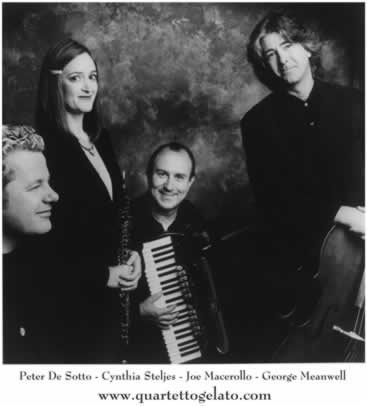 With their breathtaking virtuosity, irrepressible energy and charming wit, Quartetto Gelato has won the hearts of audiences across their native Canada and the U.S. since their remarkable 1994 debut season. Their West Coast debut at the Oregon Bach Festival in June 1995 elicited a rave typical of virtually every Quartetto Gelato performance to date: "Part Peter Schickele, part Mozart in Brazil...but all musician.... They play together without scores, and with the conversational ease of old friends. Very funny old friends.... There's a reason we call this 'playing' a concert, and that sense of play was never clearer than in Beall Hall on Monday night." Since then Quartetto Gelato has played to sold-out halls from coast to coast, including Austin, Dallas, Houston, Los Angeles, Nashville, New York, Palm Springs, Santa Fe, and San Francisco, where they were immediately re-engaged for the following two seasons.

In programs featuring an exciting mix of classical favourites, operatic arias, traditional melodies, tangos and gypsy fiddling, Quartetto Gelato's members perform on multiple instruments, including oboe, English horn, violin, cello, accordion, guitar, mandolin and a show-stopping tenor voice, which are featured in various combinations. In the quartet's own words, "Eclecticism is an inescapable part of Quartetto Gelato's approach. In this we do not pretend something new, but rather a renewal of a European tradition of bringing together the best of many idioms in a concert experience. Our repertoire might be described as a collection of music that, while travelling to different destinations, finds itself staying overnight in the same hotel."

In recent seasons, Quartetto Gelato has performed in recital around the world, quickly becoming a favourite of presenters in North America, Europe and Asia. The ensemble has enjoyed return engagements on such prestigious concert series as New York's Metropolitan Museum Concerts & Lectures, Washington (DC) Performing Arts Society, San Francisco Performances, UCLA Performing Arts Series and the Houston Society for the Performing Arts, as well as at Kioi and Oji Halls in Tokyo. Their 2000-2001 season include recitals and workshops throughout the US and Canada, as well as in Korea, Hong Kong, Kuala Lumpur, Taiwan, China and Macao.

Quartetto Gelato also performs regularly with symphony orchestras, and the quartet recently made their debut with the Cincinnati Pops at Riverbend, in a special program featuring the music of the Italian Cinema. They have also appeared with such major symphony orchestras as the Toronto Symphony, Vancouver Symphony and the National Arts Centre Orchestra, and in 2000-2001 they will collaborate with the Calgary Philharmonic, among others.

Active in the recording studio, Quartetto Gelato has just released Neapolitan Café (April, 2001), which is their first CD with their newest member Joseph Macerollo on accordion. This disc features a range of joyous and introspective pieces that transport the listener through a Mediterranean afternoon of Italian and English song, rustic instrumentals, virtuosic showpieces and original compositions. Their previous recordings, which have played a significant role in the group's increasing popularity, are Aria Fresca; Rustic Chivalry; and their debut recording, simply entitled Quartetto Gelato. The latter two CD's have literally been heard around the world, since they accompanied Canadian astronaut, Dr. Robert Thirsk, during his NASA flight on board the space shuttle Columbia in 1997.

Quartetto Gelato can also be heard on the soundtrack recording of the major motion picture Only You, starring Marisa Tomei and Robert Downey Jr., on the Sony label. Additionally they have appeared on the hit CD recording of Ashley MacIsaac Hi, How are You? on the A & M record label.

In March 1996, Quartetto Gelato's growing U.S. presence was recognized by an award from National Public Radio as Performance Today's "Debut Artist of the Year." The panel of music critics who made the selection characterized the quartet as "an amazing ensemble that achieves the nearly impossible: they play salon music with real style and classical music with real precision; Great chops and a commitment in all that they play."

CYNTHIA STELJES (oboe, English horn) was born into a family of scientists in the small town of Deep River, Ontario. Overcoming a local reputation as the product of genetic experimentation, Cynthia turned her back on science and became an oboist. Her main teachers have included Rowland Floyd at the University of Ottawa, Harry Sargous at the University of Michigan and Leslie Huggett. She has performed in concert and on radio throughout North America, Eastern and Western Europe and the Middle East as both soloist and chamber musician. She was the oboist with the York Winds woodwind quintet for five years and a member of the Toronto Chamber Winds. Cynthia is often asked to give master-classes to young oboists while touring with Quartetto Gelato and as well her playing may be heard on popular TV and movie soundtracks, only during sad scenes, of course!

Toronto-born PETER DE SOTTO (violin, voice, mandolin) learned to play the violin by ear. His early musical experiences included jazz, rock and roll and gypsy music. At the age of twenty, Peter adopted a classical approach to the violin while studying with Steven Staryk. He later attended The University of Wisconsin, Milwaukee where he studied with the Fine Arts String Quartet. Peter was a member of the Toronto Symphony for ten years, and he has appeared as both vocal soloist and violinist with numerous orchestras. Peter's voice teachers have included Gary Relyea, Mark Dubois, Louis Quilico and Angela Hawaleshka. In 1997 he founded Canada's "Camp Rock", an innovative music camp for aspiring rock musicians. In 1998, the Toronto Musicians' Association voted Peter De Sotto "Musician of the Year."

JOSEPH MACEROLLO (accordions) is a graduate of the University of Toronto where he now teaches. He has appeared as soloist with Nexus Percussion Ensemble, the Orford String Quartet, the Purcell String Quartet, and such orchestras as the Toronto Symphony, the National Arts Centre Orchestra and the Winnipeg Symphony Orchestra. He is a leading exponent of new music performance and has had over 200 works by Canadian composers written for him. Joseph has accompanied Luciano Pavarotti and Teresa Stratas and collaborated extensively with Henry Mancini. When not performing with Quartetto Gelato, he continues his career as a leading pioneer of the accordion. Solo engagements last year took him to Italy and Germany.

Before moving to Toronto in 1988, GEORGE MEANWELL (cello, guitar, mandolin) was an active chamber musician in Winnipeg, as a member of the trio Music Plus and founding member of Thira, a twentieth-century performance ensemble. In 1988 he toured Portugal with The Manitoba Trio and was recorded by Portuguese National Radio. He toured North America for three years with the Royal Winnipeg Ballet orchestra as principal cellist, in which capacity he has also appeared with the National Ballet of Canada and Les Grands Ballets Canadiens. In a previous existence, he was guitarist and vocalist with the pop trio Short Turn, releasing two albums and appearing on live national radio and television broadcasts.

Selected Reviews:

"If there were ever a group of musicians that could make anyone feel at home with classical music, Quartetto Gelato is it." Newsday (NY)
"Quartetto Gelato's performances have a warm, endearing vitality..." The New York Times
"It's hard not to like Quartetto Gelato, the Toronto-based pop ensemble whose debut album is crammed with deft arrangements and virtuoso performances." The Globe and Mail
"Their versatility would put a chameleon to shame... the performances are that good." The Toronto Star
"Breathtaking virtuosity..." Chicago Tribune
"Light programming, like comedy, is a serious business. Quartetto Gelato has the stuff. Dry humor and occasional clowning are part of the quartet's arsenal, yet first it meets the requisite virtues of skilled music-making. Its pleasure-giving is consistent." Los Angeles Times
"Charm, musical beauty, subtlety, wit, and sophistication combine to make this classical cabaret CD by a Canadian quartet a winner." Stereo Review
"Quartetto Gelato plays with both the precision expected of a string quartet in Beethoven and the abandonment of gypsies improvising around a campfire." The Tennessean, Nashville
"Flawless musicianship... This group makes music together as easily as breathing." The Register-Guard, Eugene, Oregon
"The hottest classical band in Canada right now... De Sotto sings in that soaring Italian tenor tradition that turned Pavarotti into a superstar. " Halifax Mail-Star

information:
website: http://www.quartettogelato.com