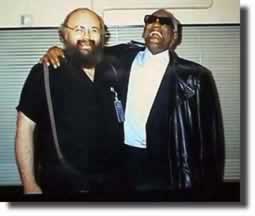 A Personal Remembrance of Ray
by Dave Hoffman
By now everyone has heard the news about the death of Ray Charles. It was personal for me, because I worked with him for 13 years and was onstage with him literally thousands of times.
Since then folks from the media have been asking for some personal insight on him. The most important thing I can say about Ray was that he was a true one-of-a kind artist. His musical influence was felt by several generations of instrumentalists and vocalists, me being one of them. As I said, this is personal, so this will be a personal tribute. What Ray had that many musical artists today lack is style. He possessed his own personal way of making a song his own. When Ray sang, it was immediately identifiable. It could be nobody else. His ballads were slower than molasses, and nobody but Ray could make songs work at that speed. When new musicians came into the band, it took them weeks to understand how to play at the slow tempos he chose. It was an elastic kind of flow that is not common in pop and jazz music, or especially in soul or R&B. In fact it's pretty much considered "wrong" when anyone else tries it. That's why Ray cannot be imitated effectively. And then he would burn on a tune so fast that you just had to hang on for dear life and hope the band stayed together.
I had the chance to witness the creative process with Ray on many occasions. He would hear a tune he liked, and decide to perform it. You would catch him doodling around on the piano, trying to come up with something different in the chord structure or the melody. Again, making the tune personal to him. He decided that he wanted to sing Paul Simon's tune "Still Crazy After All These Years". I thought this was a odd selection for him, and the first few nights that he sang it, it sounded awkward. But gradually it began to sound like Ray Charles. It took many performances, and it took him knowing the tune so well he could just let go and be himself. And at that point, it was terrific. Ray has been termed a genius, but to me this does not describe him. It was workmanship, it was persistence, and more than anything it was a way of personalizing a song.
In Ray's music there was no pretense. I think that is what appealed to people. In the public's mind, Ray was "one of them". One of his early hits comes to mind as to how he expressed himself in a song. "I Believe It To My Soul" is a simple blues that tells a story of relationship woes in three short verses. It builds to the point where when Ray screams at the end of the third verse in his raspiest voice "I believe to my soul, you're trying to make a fool out of me!", it's not just for effect, as so many lesser singers try to do. It's the ultimate conclusion of the song, and it works.
During his later years on tour, Ray eschewed playing acoustic piano for electronic keyboards. But on the blessed occasions where there was a technical malfunction he would play on a "real" piano. The difference was staggering. He had a beautiful soft touch on the piano that we rarely got to experience. But his playing during these times was gorgeous.
To his fans Ray was an icon who they could readily identify with. To me he was a bandleader that always had confidence in my playing and in my writing. I am grateful to him for that. He taught me things about phrasing that could be learned no other way. We all watched his feet and his body for musical cues, and on those best nights, the ebb and flow of the time made the 22 musicians in the band seem like an extension of Ray's limbs and body. He would turn to the band with a "yeah" that indicated that he was happy with the music. I think he lived for those moments. To that end he employed a band of 22 musicians when most other artists had scaled back or used "pick-up" bands in order to save money. But to Ray nothing was comparable to the sound of his hand-picked band. We understood what he was after, we could read his movements, we had the insight of working with him night after night, realizing what he wanted and being able to accomplish it. And I was very lucky to have an opportunity to be a part of that.
So that's my view from the back of the stage.
---------------------------------------------------------------------------
Be sure and visit Dave's site: http://www.davidhoffmanjazz.com/rayobit.htm