Trey Lands On Higher Ground
By Dylan Stableford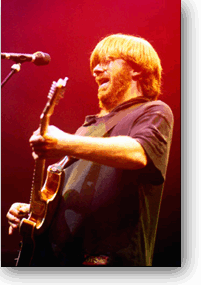 WINOOSKI, Vermont - The contagious smile of guitarist Trey Anastasio can stretch a long way. Trey, a member of the internationally renowned, Burlington,Vermont-based quartet PHiSH, decided to spend some of his time away from his band's relentless touring commitments, playing two benefit gigs within a week. On Monday night (Feb. 15th) Anastasio lit up the Higher Ground Music Hall in Winooski, VT with two generous sets of music to benefit Very Special Arts Vermont, an organization which provides free art programs to over 3000 disabled and disadvantaged kids.
The event was a prelude to the Tibet House Benefit Concert (February 22nd, Carnegie Hall, NYC) where Anastasio performed a solo acoustic set in a lineup which included Shawn Colvin, R.E.M. and Cibo Matto, among others.
The first hour-long acoustic set featured Anastasio's sparkling solo acoustic work on a number of PHiSH favorites, including Dirt, Runaway Jim, Driver, Guyute,as well as an energetic acoustic arrangement of the set-closing Chalkdust Torture.Anastasio was joined by local luminaries - bassist Tony Markellis and drummer Russell Lawyton (Gordon Stone Band) - for a funk and rock-driven electric second set.
Interspersed among the trio's lilting originals were tasteful and uplifting renderings of the soul classics Ooh Childand Johnny Nash's I Can See Clearly Now,as well as a thoughtful take on the Garcia/Hunter ballad Row Jimmy.
"If you look around the room, I don't think a single person in here can say that this isn't as good as it gets," surmised Jill Carson, 26, of Burlington, VT, speaking on behalf of the 650 who packed the sold-out club. Children's artwork encircled the crowd along the walls and rafters of the room, and was for sale as a part of the evening's benefit. "It was a lot of fun," the soft-spoken Markellis simply noted on the evening, which generated over $7000 for the art program.
"We feel very fortunate to be able to host this event," added Higher Ground co-owner Kevin Statesir. "It's gonna be a great night." The benefit trio, along with vocalists Heloise Williams (Viperhouse) and Tom Lawson (of Burlington's infamous alt/rock outfit The Pants) christened the Winooski club during its first week last April as the 8-Foot Florescent Tubes. Anastasio has always seemed to take a humble approach to his musical success. Last fall, PHiSH donated sets to Farm Aid in Tinley Park, Illinois and Neil Young's annual Bridge School Benefit Show in Berkeley, California, before undertaking its own U.S. tour.
"The cool thing about this event was that while we're the beneficiaries," explained VSAVT director Alex Chirelstein, "Trey approached us and organized the whole thing."
Amidst the thick haze of exclusive contracts and record company protocols which seem to dominate the modern rock industry, Anastasio continues to be a proverbial breath of fresh air.
To learn more about Very Special Arts Vermont, check out their website at www.VSAVT.org , or you can contact:
Very Special Arts Vermont
192 College Street
Burlington, VT 05401
(802) 860-6220
vsavt@together.net

You can also check in with the Higher Ground at their website, www.highergroundmusic.com
---
This site is copyrighted ®© AMP/Alternate Music Press, 1997-2017. All Rights Reserved.
Unauthorized duplication and distribution of copyrighted material violates Federal Law.