Ballet Mécanique and other works for player pianos,percussion, and Electronics
Paul Lehrman, producer, Jeffrey Fischer, conductor
(Electronic Music Foundation EMF 020)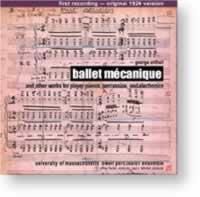 George Antheil's Ballet Mécanique, a frenetic, highly rhythmic composition combining industrial age sounds and jazz, is one of themost notorious musical moments of the 20th century. Paul Lehrman, also a composer, writer and consultant, has spent the past 18 months working to produce the ''Mechanical Ballet'' as Antheil (pronounced ANtyle) wrote it in 1924.The expanded 1924 version, however, was never performed until its premiere, produced by Paul Lehrman, at the University of Massachusetts at Lowell in November 1999. Lehrman, a composer, and computer whiz, was asked by music publisher G. Schirmer to put the piece into a performing version using digitalized sequencing technology. Through the wonders of MIDI musical interface, he was able to coordinate all those piano parts and realize them on computerized Yamaha Disklaviers and a Power Macintosh 8100.
The original score called for 16 player pianos to be synchronized, an impossible task until MIDI (musical instrument digital interface) came along in 1982. Previous peformances, in Paris, New York and elsewhere, featured only one player piano. The original concert, recorded last year, included a talk by Paul Lehrman about the enormously complicated research that went into the performance; (not included on the cd) Also on the CD: John Cage and Lou Harrison's 'Double Music' (1941), for percussion quartet; Richard Grayson's 'Shoot the Piano Player' (1995), for player piano and electronics, and 'Mister 528' (1996), for multiple player pianos and electronics; Amadeo Roldán's 'Ritmica No. 5' (1930) and 'Ritmica No. 6' (1930), for percussion ensemble; and Felix Mendelssohn's 'Saltarello-Presto from Symphony No. 4', arranged by Paul Lehrman for 16 player pianos. ''I chose the Mendelssohn Fourth's finale because it's so contrapuntal,'' Lehrman said. ''Around 1900 there were a lot of arrangements of symphonies for four-hand piano so people could play them at home.''
Richard Grayson's works for computerized piano and synthesized instruments were entertaining, innovative, and inspiring. "Shoot the Piano Player" featured multiple, player pianos (disklaviers) playing distilled saloon music frantically until pistol shots broke the cacophony. "Mr. 528" presented six electronic keyboards enthralled in a frenzied glissandi. A third piece, which was performed live at the concert, but didn't make it to the CD was "Fantasy on Broadway Boogie Woogie", a musical representation of the dots, grids, and squares of Mondrian's famous painting, accompanied by a visual realiztion as the colorful score was projected on a screen during the live performance at the University of Massachusetts at Lowell .
Lehrman coordinated the use of modern technology to perform a classic piece of music, so avant when composed that the technology did not exist to play it, a piece whose insistent rhythms, atonality, and just plain cacophony make it more contemporary now than it would have been in 1924. According to Lehrman, Antheil had hoped to use machines to create a direct link between the composer and the audience. But in this performance, the players still made a difference. The performance, as noisy and mechanized as it was, was still brilliant music. "This was an optimistic time," Lehrman said about the era when Antheil composed the piece. "At that time people did not have negative views of mechanization." ''Antheil didn't write any dynamics for the piece,'' Lehrman, a visiting lecturer in Music and Multimedia at Tufts University, said. ''But it's fortissimo up. Well, it's not a Led Zeppelin concert.''
Background:

Born on 8 July 1900 in Trenton, New Jersey, George Antheil studied with Constantin von Sternberg, Ernest Bloch, and with Clark Smith at the Philadelphia Conservatory. In 1922, he traveled to Europe to pursue a career as a concert pianist, performing in recital many of his own works such as Mechanisms, Airplane Sonata, and Sonata Sauvage. The riots that frequently ensued contributed to the composer's growing notoriety. In Berlin, he met Igor Stravinsky who became an important influence on his compositional style. Antheil was living in France during the 1920's where he befriended, among many others, James Joyce, Ezra Pound, Gertrude Stein, Pablo Picasso, Salvador Dali, Ernest Hemingway, Eric Satie, and Igor Stravinsky. In the early '20s, he lived at the literal center of English-language culture in Europe: above Sylvia Beach's legendary Shakespeare & Co. bookstore on the Rue de l'Odéon, in the Latin Quarter of Paris. (Beach was the original publisher of Joyce's controversial and groundbreaking Ulysses.) As a young composer, he considered himself to be quite the revolutionary, and his music, especially in his early career, employed many unusual sound sources and combinations of instruments. In many ways, both musical and technical, he was far ahead of his time. His concerts routinely caused riots all over Europe, which at the time was considered a sign of genius.
His crowning achievement during this period was the spectacular Ballet Mécanique, a work, which he scored for pianos, Xylophones, Pianola, doorbells, that literally shattered conventions in a production complete with airplane propellers. This created a Pandemonium at its 1927 American premiere in Carnegie Hall. The Ballet Mécanique is without a doubt, Antheil's most notorious piece. At its various premieres, it caused tremendous controversy, not to mention fistfights and concert hall brawls. Although it was very successful in Paris, it was a huge failure when it came to New York's Carnegie Hall, where it created such a fiasco - technically, musically, and sociologically -that it was not performed again for over 60 years. In fact Antheil's career as a "serious" composer never recovered from that debacle. In 1953, after he had established himself as a film composer in Hollywood, Antheil again revised the piece, using a very different ensemble of four pianos, four xylophones, two electric bells, two propellers, timpani, glockenspiel, and assorted percussion. This version, which is much tighter and shorter than the early versions, is performed fairly often and has been recorded several times.
The Ballet Mécanique was highly rhythmic, which was often a brutal piece, that brought together; among other elements, sounds of the industrial age, atonal music, and early forms of jazz. Its instrumental parts are extremely difficult to play, and the composition spans, in its various forms and versions, between fourteen and thirty minutes. It is related to a film of the same name by the famous French Dadaist painter, Fernand Léger. The film and the music are rarely, if ever, performed together.
Antheil's early works revealed the influence of the emotion and energy of contemporary jazz of that era. His later compositions included full-scale symphonies, film scores, and his notorious operatic tragedy, Transatlantic.
Later, Antheil adopted neo-romantic and neo-classic elements into his work. A great example is the Symphonie en fa and Piano Concerto. In 1936, Antheil settled in Hollywood and began writing film scores. Antheil wrote over 300 musical works in all major genres, including symphonies, chamber works, film music, and operas. He was extremely outspoken and articulate, and wrote numerous articles, as well as an autobiography, Bad Boy of Music, which is still in print. The last 20 years of his life would be a prolific era, producing four symphonies as well as several operas including the farcical Volpone. A remarkable achievement in satire and caricature, Volpone was set to a musical score that combined a conglomerate harmonic language with thematic versatility, rhythmic energy, and mosaic construction, all hallmarks of the fully-developed Antheil style.
Besides composing, Antheil was an excellent writer, an inventor, and a student of many disciplines, including endocrinology, criminal justice, and military history. He was co-holder of a remarkable patent (with actress Hedy Lamarr) for a "secret communications system" which is today in wide use and known as "spread-spectrum technology" - although neither he nor Lamarr ever received a dime for it.
Antheil left Paris in the late '20s and went to Berlin, and then as German society began to fall under the influence of the Nazis, returned permanently to America. He settled in Hollywood, where he enjoyed a reasonably successful career as a composer for film and television. He died in 1959. Jean Shepherd, author, humorist, and radio storyteller extraordinaire, as well as a big George Antheil fan, passed away on October 16, 1999, in Florida. On his historic late-night radio show, Shepherd would often play a recording of Ballet Mécanique as background music to his stories of the steel mills and factories of the Midwest, and other scary settings. When Antheil died in 1959, Shepherd produced an on-air tribute to him.
Review by Ben Kettlewell
information:
website: http://www.antheil.org