Best of Korg
CD ROM for K2000/2500
(Pyramid Sound Productions)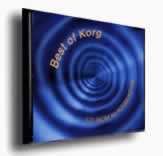 This is without a doubt, one of the best sampling collections I've come across in quite a while. Pyramid sound has succeeded at the enormous task of producing a collection of high quality samples from classic Korg synths. These include collections from the Korg M1 (two collections), Korg M3R, Korg 01/W, Korg T3, Korg Trinity (two collections), Korg Wavestation, and the Korg Z1. Each collection is fully keymapped, programmed, and ready to load and play in the Kurzweil 2500/2600 family of samplers. The programmers at Pyramid have done a splendid job of exploring the VAST programming architecture of the Kurzweil sound engine, and besides classics from the various Korg synths, there are many exciting new patches that cover a wide musical palette.

The CD ROM is packed with a generous 600 MB of data, consisting of 120 volumes of stereo, multisampled sounds, and over 400 really well designed programs, packaged in a standard jewel case with easy to understand liner notes. The sounds are multi-sampled, and the key range covers the Kurzweil's 88 keys, and majority of the samples are stereo. The average sample size is a generous 4 to 12 MB. I greatly appreciated these larger samples, especially on some of the rich dynamic pads in the Wavestation, Trinity and Z1 sets that slowly evolve over time. The Z1 set was my favorite. It has many rich textural pads that would be great for ambient music or soundtrack work.
Compared with other companies, that have tried to create sample libraries of Korg timbres, Pyramid Sound wins on all counts.
Having previously owned three of the instruments represented here, an M1, a Wavestation, and a M3R, which I loved, the samples of these instruments and new programming taking advantage of the VAST architecture, far surpasses that of their hardware counterparts. There is a lot more variety on the CD than you might expect to find on a collection like this, more pads and textures, more sound effects, industrial
sounds, percussive sounds, etc. This widens the appeal of the CD quite a bit, since many genres of music or music production will be able to make use of the majority of samples on this CD. The audio quality is superb, and ninety percent of the samples are very powerful sounding, thanks to some brilliant programming. This CD will appeal to a wide range of musicians. In mainstream music, industrial and harder dance styles, many of the loops and synth sounds will be perfectly suited. I imagine that one of the greatest genres of musicians that will appreciate this collection are soundtrack composers, and producers. There are many samples that you can just picture fitting in perfectly in film production.
I recommend this CD wholeheartedly. There are whole range of very usable timbres here along with some killer pads and atmosphere background sounds. Jazz, and pop musicians as well as electronic musicians, especially those of you into ambient music, will find this disc a virtual treasure trove of new material. This is THE authoritative Korg Collection. Highly recommended.
Review by Ben Kettlewell
contact information:
website: http://www.pyramid-sound.com/
email: Info@pyramid-sound.com
Pyramid Sound Productions
PO Box 480844
Denver, CO 80248 USA