GONGZILLA
"Suffer"

(LoLo Records Lolo 003-2)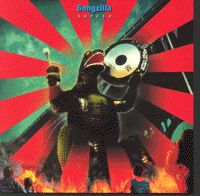 This may be the best guitar based fusion cd I've heard all year. Gongzilla's debut album straddles jazz fusion and progressive rock. If we had to compare this new disc to anything, though, we'd probably mention Jean-Luc Ponty , Bill Frizell, or John McLaughlin. Allan Holdsworth dominates the album with his innovative melodic style, but gets a good run for his money from fellow guitarist, Bon Lozaga, the leader of the ensemble.The tunes have an almost symphonic power and breadth, with strong melodies and counterpoint lines and infectious drum patterns. The great signal proccessing and engineering on the album may also have contributed something to the riveting impression the music makes.

And for all the lovers of technical guitar prowness, there's plenty of firey guitar on every track, with electronic bass, and vibes and marimba chugging away on a hot lead or two as well. The group's bassist Hansford Rowe does some amazing stuff with his "just-intonation" bass. Those of you who buy cds by unknown groups in fear of only getting a couple of good tunes will appreciate the fact that the mood and dynamic level are consistent from one end of the disc to the other. And if you're into the subtleties of multitrack recording and great arranging, there are lots of crisp details to grab your attention. Highly recommended. Click HERE for audio excerpt.

information: website; http://www.artist-shop.com/lolorec/

Review by Ben Kettlewell

BACK TO REVIEW DIRECTORY











---
This site is copyrighted ®© AMP/Alternate Music Press, 1997-2017. All Rights Reserved.
Unauthorized duplication and distribution of copyrighted material violates Federal Law.