Multi-Media Audio Mega-Pack CD-ROM
Manufactured by Sonic Implants
CD ROM format, price $69.95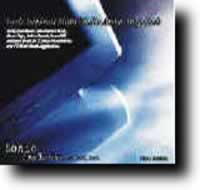 Although I'm reviewing the Macintosh version, this pack is also available for the PC platform. The MAC User format of the Audio WebPack, offers the audio files in 8 bit, 8kHz, ulaw .au format as well as 126 bit.. This is a format that allows for very small file sizes in order to make download time off the Internet very quick. Although the sampling rate and bit rate is very small, Sonic Implants has optimized each sample to sound as good as possible with these restrictions. They have also been thoroughly tested on PC speakers and will sound fine in that context. AU files are also the file format that Java currently requires so you will be able to use these with Java encoded objects. In addition to the great performances, I really appreciated the variations within the tracks.
There are six folders of files contained on the disk. They cover five genres, DJ Spin, Electronica, Funk, Rock, and World Pop. The folders include CD Quality Audio Clips, Audio Clips for Websites, MIDI Music Songs, Sound FX CD Quality, and Sound FX Websites. There is an abundance of quality samples, for instance, there are 47 sounds and loops in the electronica section of web music clips, with an average size of 12k in either 8 or 16 bit sampling rates. There are 51 samples in funk, and 40 in dj spin. There are sounds for button clicks, background loops, and lots of other great material to choose from. The MIDI section contains 52 great GM format MIDI files divided into 3 categories, Holiday Carols, Piano Classics, and Pop Jazz Infusion. I tried out some of the files in the Pop Jazz Infusion section , on my "soft synth" asoftware based Roland SC33 Sound Canvas, and they sounded great. highlights include the originals SI Glass Blown.mid, SI Loose End.mid, and SI Vintage Mood.mid. There is also an excellent documentation area focused on the MIDI files, and how to use them, and incorporate them into your website.
The disc also has very good docs, with sections on installing, how to use webpacks in websites, special sections for pc and mac users, converting to other formats, reducing the size of audio files and a great user support section, as well as an email address for online support. Nicely laid out in an 8-page multi-media application, this tutorial tells you how to use the music and sounds on this CD to enhance your website. Tutorial includes definitions of the popular audio and MIDI file formats, browser compatibility issues and chart, sample websites, sample HTML code and access to more free music and sounds. These samples will give you a leg up on professional-sounding audio for multi-media presentations and website production,even if your gear setup is minimal. Hey, this is fun!

Review by Ben Kettlewell
for more information:
website: http://www.sonicimplants.com/
email: mailto:studio@sonicimplants.com
phone: (888)769-3788