Tim Sparks
"One String Leads to Another"
( Acoustic Music Records AMC1177)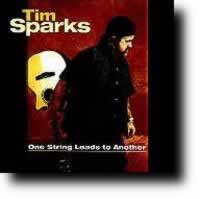 This is an excellent album of acoustic steel string guitar music. The disc is comprised of eleven original compositions and one song by Anastascia Dominguinhos called "Eu So Quero Em Xodo" which also features guest, Dean Magraw on guitar. The melodies range from soft, and delicate to spirited up-tempo ballads.
Sparks shows a proficiency at arranging as well as playing his compositions. It begins with a finger picking style piece called "L'etoile de Mer" reminiscent of the stylings of Bert Jansch and John Renborn with some nice counter melody work. The next cut, "Waltz with a Mermaid" is a more progressive piece. It shares a great balance of inspiration and technique. "Cornbread & Baklava" is a beautiful ballad bringing to mind some of Steven King's best fingerpicking. The lovely "La Soledad" demonstrates outstanding technique. Another favorite of mine was "Elegy for Max", which shifts effortlessly between modal scales and minor key motifs creating a sophisticated yet simple sounding arrangement.
The music will definitely liberate those trapped in fretboard purgatory. The straight forward production highlights the sparkling guitar work and in summary "One String Leads to Another" is a very memorable collection of acoustic guitar music.

Clich on the link below for an interview with Tim Sparks
http://www.guitarsite.com/newsletters/000424/14.shtml
information:
email address: acoustic-music@t-online.de
website: http://www.acoustic-music.de
or: http://www.timsparks.com
---
This site is copyrighted ®© AMP/Alternate Music Press, 1997-2017. All Rights Reserved.
Unauthorized duplication and distribution of copyrighted material violates Federal Law.