Spectrasonics Symphony of Voices
Manufactured by Spectrasonics
Akai/Emu format, list price $499.00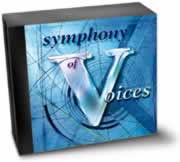 When it comes to sample libraries, Eric and Lorey Persing and the crew at Spectrasonics are in a class all their own. I've worked with sample libraries from many other companies, and they all pale in comparison.

In this collection, Spectrasonics offers one of the largest and most extensive collection of voices ever assembled in CD-ROM format. This five CD collection will certainly be a great source of inspiration for creators of music for film, as well as ambient composers, ...actually, any creative musician. The immense strength of the vocal choirs, and the dynamic range of timbres of this impeccable sampled collection is enough to deeply touch and inspire any working musician. Persing's crew traveled around the globe to assemble this superb collection.
Here are the origins of the sampling sessions: First we have the London Choirs collection, recorded with Musical Director, Michael Kibblewhite's Hertfordshire Chorus and the London Chorale. Next, the Washington Master Chorale was recorded for the Vibrato and Staccato Choirs collection. The Boys Choir collection was taken from recordings of the Cantate Youth Choir, and the Gregorian Men's collection originated with the members of the Compline Choir. The Soprano soloists in the collection are Pauli Pedersen, Melinda Perrin and Jennifer Lind.

There are brilliantly recorded samples in the Tenor Soloist set provided by Steve Amerson, and Roby Duke is the voice heard on the Pop Male Stacks series. The Pop Female Stacks collection is made possible by the vocals of Libby Torrance, Jennifer Lind, and Kirsten Owen. The voices of the Background Oos Stacks are provided by Linda McCrary, Howard McCrary II, Crystal Merton, and Roger Treece.
Recordings for this immense collection originated at these locations: Haileybury Cathedral in London, St. Thomas Cathedral at Bastyr University in Seattle, Washington, Eastside Foursquare Church in Seattle, Red Door Studios in Bothel, Washington, Ultrasonics in Burbank, California, and O'Henry's in Burbank, California.
Here is a taste of some of what you'll find on this epic sample collection. The first disc; 'London Choirs,' is comprised of impeccably detailed samples of the eighty-voice London Chorale. According to the liner notes, these are the first sampled choirs ever presented without heavy vibrato, making them much more playable than your ordinary choir sample collection and useful for a wide variety of musical contexts. The variations in the samples recorded on this disc offer multiple dynamics of multisampled ahs, oos, ohs, ees, humming, intense staccato stabs, natural crescendo/decrescendo swells, octaves, moving vowels, vibrato versions and last but not least, samples of choir members whistling.


The next disc in the collection 'Classical Soloists and Choir FAX,' demonstrates the magnitude and scope of Classical Soloists. This disc Includes a huge variety of license-free operatic tenor and soprano phrases. Besides the the natural multisamples of each singer, there are also sung words and melismatic phrases included. Also featured on this disc are a collection of London Choir FX samples, comprised of major, minor and suspended chords with high & low chord voicings, thick clusters, twelve-tone and ligeti FX, as well as a number of whispering, murmuring, accents, falls, avant garde glides, vertigo FX, swoops, chattering, guttural groans, shouts, and ethereal phrases.

The third disc in the collection, 'Boys Choirs and Gregorian Men,' focuses on an authentic English Boys Choir and a Gregorian Men's Choir. A great deal of the samples in this collection have never before been available to the electronic musician. The Boys Choir features multisampled phrases, i.e. Kyrie, Allelujah, Amen, Agnus Dei, etc. in addition to the soft and loud multisampled static vowels comprised of (oos, ahs, ees, and mms). Then there are several moving vowels (oh-eh-ah and ah-eh-ee-oo). The third disc in the collection also includes Solo Boy phrases and multisamples. The Gregorian Men's Choir collection is provided with multisampled soft and loud ohs, mms, fifth drones, intervals (half and whole step up/down), multisampled Latin words as well as a liberal collection of ancient Gregorian Chants.

The fourth disc is called 'Pop Stacks.' This collection offers an overwhelming variety of lush multitracked pop stacks, which Spectrasonics created from over 10,000 perfect vocal performances. There are vocal pads, similar to the ones Nicky Ryan created for Enya's multilayered vocals pads. This collection would be highly suitable for Celtic, Pop, R&B and New Age music. 'Pop Stacks' has the most comprehensive multisampled vowels in the collection, including oos, ahs, ehs, ees, ohs, mms, vvs and zzs, moving vowels, washes and "scooped" notes. There are loads of beautiful pads, textures, and washes perfect for recording musicians or soundtrack design. This disc is packed with literally hundreds of vocal expostulations, some spoken, some sung with elaborate soulful ornaments. It's great to find a CD that gives you so many licks suitable for various tempos and that goes beyond the standard clichéd vocal phrases. If its sustained backup vocals you're craving, you get a full menu of lush choral phrases. The vocalists have amazing tone and the sound quality is sublime.
The fifth and last disc in the set, 'Additional Voices', consists of seven segments. There are various choir techniques, which are multisampled, soprano phrases, tenor phrases, full length Gregorian chants, male pop stacks, and background vocal stacks. This disc also contains a demo of a new collection, titled Vocal Planet. This segment has demo songs with information on the various discs in this new collection.
This outstanding library is an invaluable tool for the serious composer and producer. The documentation is the best I've ever seen in a sample library, including two fifty-two page booklets, which are packed with beneficial, easy to comprehend information. Each partition of the sample collection is divided into sections and then individual programs, including memory requirements for each one. Another great benefit is that the collection is also very memory-friendly. Even though the formats are Akai and Emu, I actually used the collection with the VST plug-in HALion and my Macintosh version of Cubase. The samples loaded and played flawlessly. Most of the samples are under two MB, and where appropriate, beats per minute are listed in the liner notes. Near the back of each booklet there is a couple of pages of user information that offer some very useful tips on maximizing the effectiveness of the samples in many contexts and applications.
Roland's Chief Sound Designer, Eric Persing, is the CEO of Spectrasonics. Persing and his affiliates have developed a great reputation for their sample collections, and after working with this collection for several weeks, I can certainly see why. Many musicians and reviewers I've talked to recently consider this to be one of Spectrasonics' best collections. The five-disc set comes double shrink wrapped with a separate license agreement, which is placed inside the first shrink wrap, immediately visible to the buyer. This is a lot more practical approach to license agreement than the ones you discover after you open the package, which usually includes the infamous line "By opening this CD you agree...". About the only stipulation, other than standard clauses, like not copying or selling the material in the product, is the stipulation that requires specific written credit in any liner notes.
The sound quality throughout Symphony of Voices is exceptional, rivaling modern commercial recordings of orchestral choirs and soloists, as well as orchestral film music. The material recorded for the stereo samples has been meticulously performed and edited. The samples retain the natural ambiance of the hall they were recorded in, although they are still just as vital and alive sounding when external reverb is applied. The first and fourth discs were my favorites, but all five are tremendous musical tools .I enjoyed this collection immensely, and so will you. In summary, it is an excellent collection of highly usable first-rate samples, which would be a fine addition to most anyone's sample library.


Review by Ben Kettlewell
for more information:
website: http://www.spectrasonics.net/