Tim Sparks
'Tanz'
(Tzadik #7144)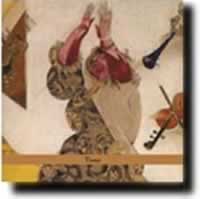 "Tanz" is the Yiddish word for "Dance" and it is the second release of Jewish music that virtuoso acoustic guitarist Tim Sparks has recorded for the impressive Tzadik label.
Sparks was born October 31, 1954 in Winston-Salem, NC, taking his first music lessons from his moonshiner uncle; while attending the North Carolina School of the Arts, he also studied classical guitar with Andres Segovia protégé Jesus Silva. Following the success of his first CD for Tzadik, Neshamah, Sparks is joined here by extraordinary bassist from Masada, Greg Cohen, and Brazilian percussionist Cyro Baptista for a wonderful adventure into the myriad of styles of music of the Jewish Diaspora.
The album showcases traditional tunes from India to Persia, New York to Prague.The album begins with the flamboyant klezmer clarinetist Naftule Brandwein's "What Were You Doing Before Prohibition", which has a distinctive Latin feel to it. There are three other Brandwein tunes, including the well-known "Araber Tanz," a clever blend of syncopation with Middle Eastern drones as a foundation, and "Der Terk in America," a timeless melody with Sparks' brilliant chording and well-timed melodic counterpoints.
Tim Sparks creates multiple layers of guitar melodies on the solo piece "The Most Conceited of All" where the guitar chimes percussively almost like a dulcimer. The album concludes with another awe inspiring solo guitar piece called "The Rose in Bloom", an instrumental gem that exemplifies the balance of precision and deep emotion at the heart of this exquisite triumph. Where it grooves, it really grooves, where it doesn't it doesn't intend to, and it's all outstandingly played and interpreted. No note, no beat, no voicing is misplaced.
Review by Ben Kettlewell
information:
website: http://www.timsparks.com/
Tzadik
61 East Eighth Street, New York NY 10008


BACK TO REVIEW DIRECTORY











---
---
This site is copyrighted ®© AMP/Alternate Music Press, 1997-2017. All Rights Reserved.
Unauthorized duplication and distribution of copyrighted material violates Federal Law.